Being a new mom can be overwhelming – there is so little time and so much to do! One of the things that tend to get any new mom excited is buying things for her baby – there are so many cute prints, such bright colours, and just so, many, OPTIONS! It's very easy to miss out on important things, getting carried away on how beautiful everything in the store looks. So here is your most definitive list of things you will need to buy – for both you and your baby – when she arrives!
Feeding
Probably the first thing you are going to do as soon as you hold your newborn in your arms is nurse her. A major chunk of your baby's initial months is going to be spent nestling lovingly in your arms while she goes glug-glug on your breast milk. Here are things you need to buy to make breastfeeding a comfortable, easy, and hassle-free experience for both of you.
Feeding Products for You:
1. Nursing Bras – these make feeding easy, especially when you are not in the comfort of your own home (where you can be bra-free!).
2. Nursing Pads – these will help mitigate the embarrassing situation of leaky breasts.
3. Nipple Cream – some mothers' nipples crack as a result of frequent breastfeeding. Nipple creams will help them heal in time, so as not to interrupt your baby's feeding schedule.
4. Nursing Pillow – a lot of moms recommend this as a must buy – it helps maintain the right posture for feeding your baby; critical for a smooth breastfeeding experience.
5. Nursing Gown/Nightwear – these make night feeds convenient (and yes, there are going to be many!).
6. Breast Pump – in case your baby is finding it difficult to latch on, or if she is not strong enough yet to nurse herself, a breast pump will allow you to pump your milk and keep your flow going strong, without letting her miss out on the benefits of breast milk.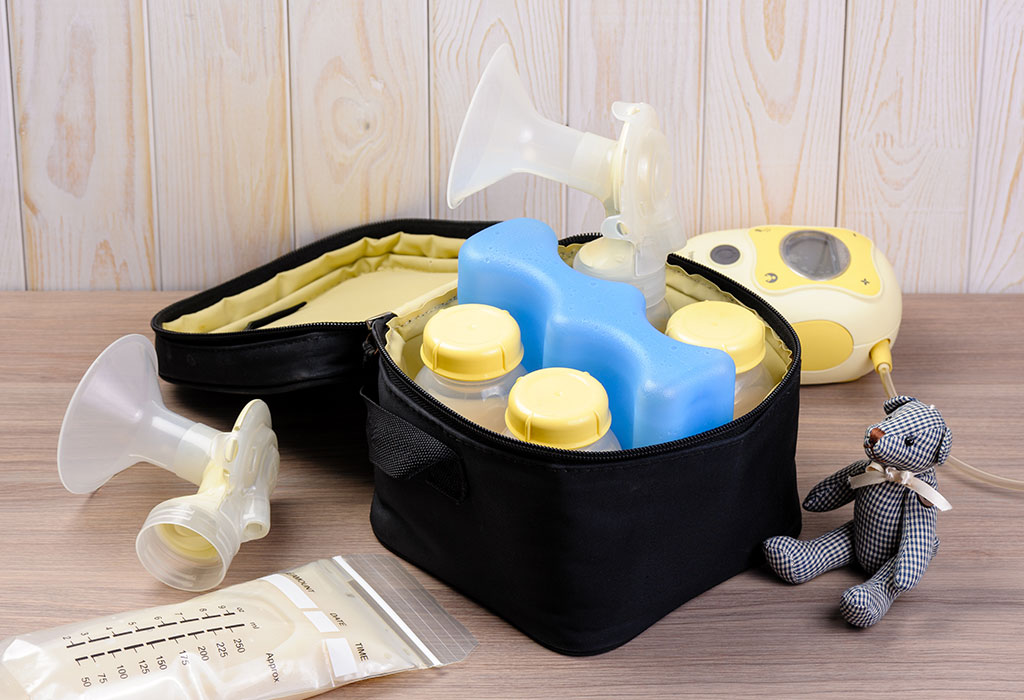 Feeding Products for Baby:
1. Burp Cloth – your baby may spit up a few times, till she gets the hang of suck-and-swallow. Burp cloths will prevent your clothes from getting spoilt.
2. Feeding Bottles – depending on whether or not you exclusively breastfeed, and whether you use a pump, breast milk you pumped can be offered to your baby in a feeding bottle.
3. Steriliser and/or Bottle Brush – feeding bottles need to be kept squeaky clean at all times! A bottle brush may be sufficient, but a steriliser is highly recommended.
SHOP STERILISER AND/OR BOTTLE BRUSH
4. Mild Dish-Soap – you should not use the same dish soap for your baby's utensils, that you use for your own. Look for one that is very mild, does not have a strong odour, and leaves no traces behind.
Diapering
This is one of the biggest – and oft unpleasant – of your new parent responsibilities! Here we have a list of all things you'll ever need to look like a pro at dealing with 'sh*t'.
Diapering Aid for You:
1. Apron – to prevent, err, 'accidents' from ruining your clothes (especially when you are outside the house)!
Diapaering Products for Baby:
1. Diaper – duh!
2. Baby wipes – they should really be called multi-purpose wipes because you will soon find yourself reaching out for one of these on different occasions! But indeed, they are the best thing for your baby's bottom!
3. Diaper-Rash Cream – while every mother takes utmost care to avoid a diaper rash, you still should keep one of these handy.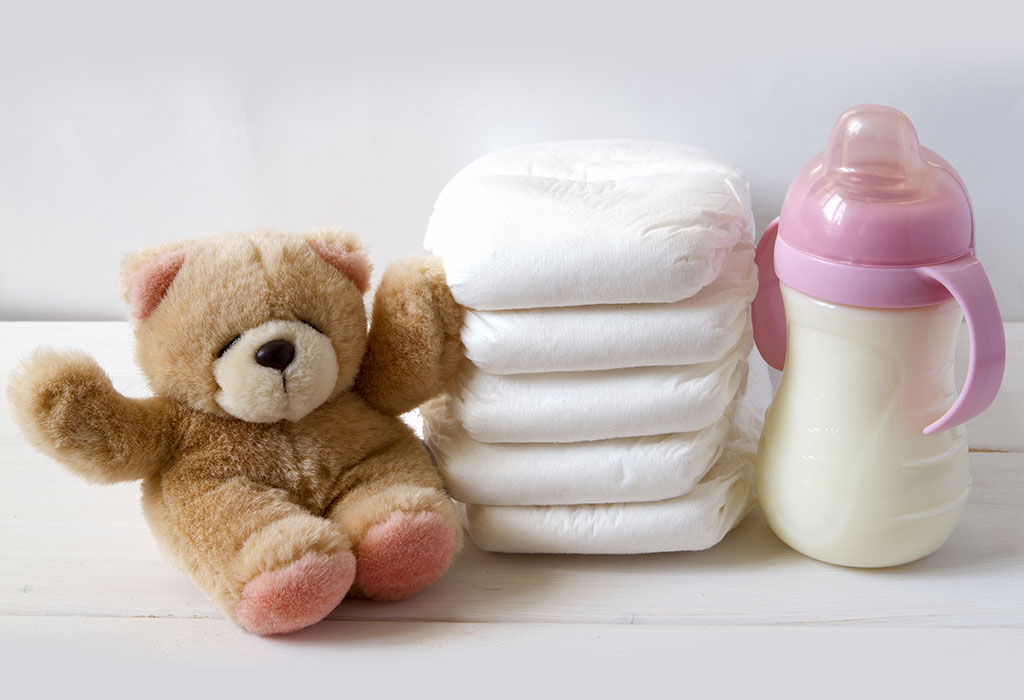 4. Baby Powder – paediatrician's recommend that mothers use talcum powder sparingly on their little baby's skin. However, in especially humid weather, it can prove to be a saviour. Remember to leave your baby diaper-free for at least 15 to 20 minutes after you use powder on her.
5. Changing Station/Changing Pad – these are a blessing when you are not at home. They are the best way to ensure your baby does not catch any germs from being laid down for a change on unclean surfaces!
SHOP CHANGING STATION/CHANGING PAD
Clothing
One of the greatest joys of being a new parent is to buy clothes for your little one! Your heart is bound to melt when you look at those teeny tiny clothes, all neatly stacked up in the store! However, it is important you buy everything necessary – while also buying everything cute and pretty! Here is a comprehensive list of clothes to buy when your baby arrives.
Clothing for You:
While there are no special clothes you need just because you now have a baby, here are a few tips you may want to keep in mind, which may affect your buying choices for the coming couple of years.
Buy clothes made of materials that are easy to clean and do not stain easily. Your baby is going to spit up, throw up, and sometimes even poop on you at some point in time, in the couple of years following her birth. Best be prepared for such casualties.
SHOP MATERNITY CLOTHING AND WEAR
Your weight might fluctuate; so consider maxing out on sale periods, and getting clothes that can be altered easily.
Consider adding accessories like scarves, stoles, jackets, etc. to your wardrobe. They can come handy in hiding stains. Layering up, if done right, can also make you drop a couple of pounds and look slim!
Clothing for Baby:
1. Pyjamas – to sleep in
2. Onesies – for when it gets cold
3. Tops (viz. t-shirts, shirts, blouses, etc.)
4. Bottoms (viz. pants, shorts, skirts, etc.)
5. Head-Gear – to keep their ears and head protected from extreme weather
6. Frocks – for baby girls
7. Socks – to protect her feet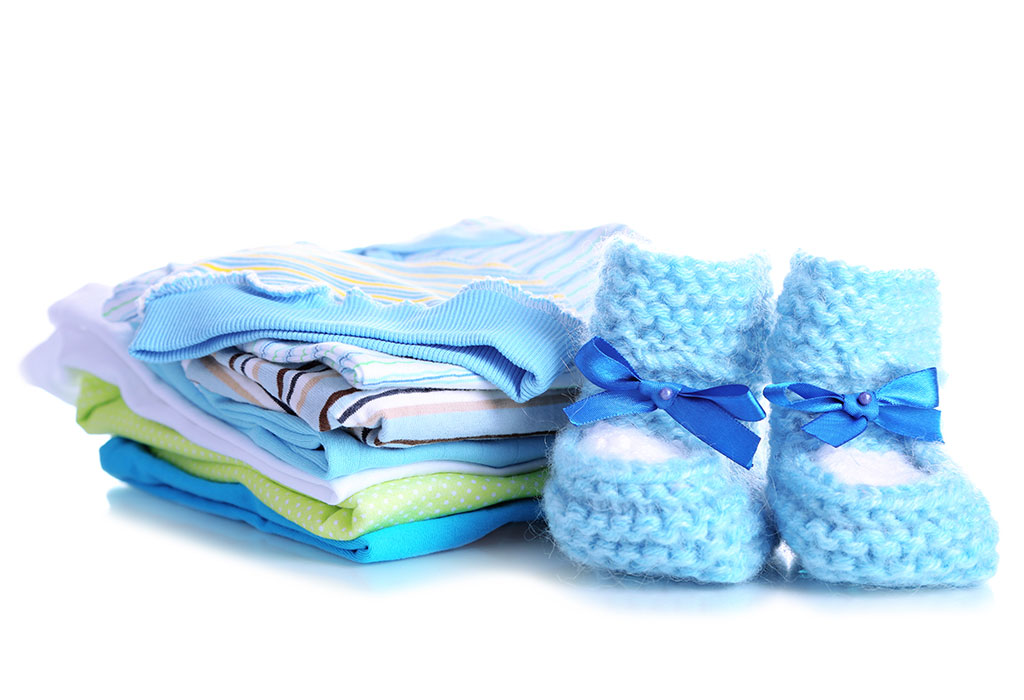 8. Shoes – when stepping out of the house
9. Gloves/ Mittens – to protect your baby from scratching herself/hurting herself accidentally because of growing nails
10. Jackets/ Sweaters – for when it gets cold
11. Swaddling Cloth – to swaddle your baby and keep her cosy!
Bathing
A baby is very delicate and requires a whole different level of care when it comes to cleanliness and hygiene. Not only do you want to look for products that are effective, but also for ones that will not harm your baby or have any ill-effects on her body, skin, hair and eyes.
Bathing Products for You:
Here are a few factors you may want to consider while making choices for yourself when it comes to bathing necessities.
Consider buying products that do not leave a strong smell behind. Your baby might get irritated when you are with her because of the smell. At the same time, it is important you get rid of whatever odour you pick up from your baby – poop, pee, spit-up, etc. Going out of the house and meeting people with 'baby smell' can be quite a turn-off!
NEVER use your bath products for your baby! Remember your baby's skin is several times more delicate than your own; it is thinner and loses moisture more easily. Only use baby products for your little munchkin.
Bathing Products for Baby:
1. Top to Toe Baby Wash – a baby wash is a quick and easy way to refresh your baby. It is neither advised nor always possible, to give your baby a 'water' bath or wash. A baby wash will come handy at such times.
2. Baby Soap – a baby soap is much milder than an adult soap, and will help to clean your baby, without damaging her skin.
3. Baby Shampoo – a shampoo that is not only mild on your baby's scalp and hair but will also not make your baby cry, if it enters her eyes, is the one you want to choose – look for 'tear free' on the label.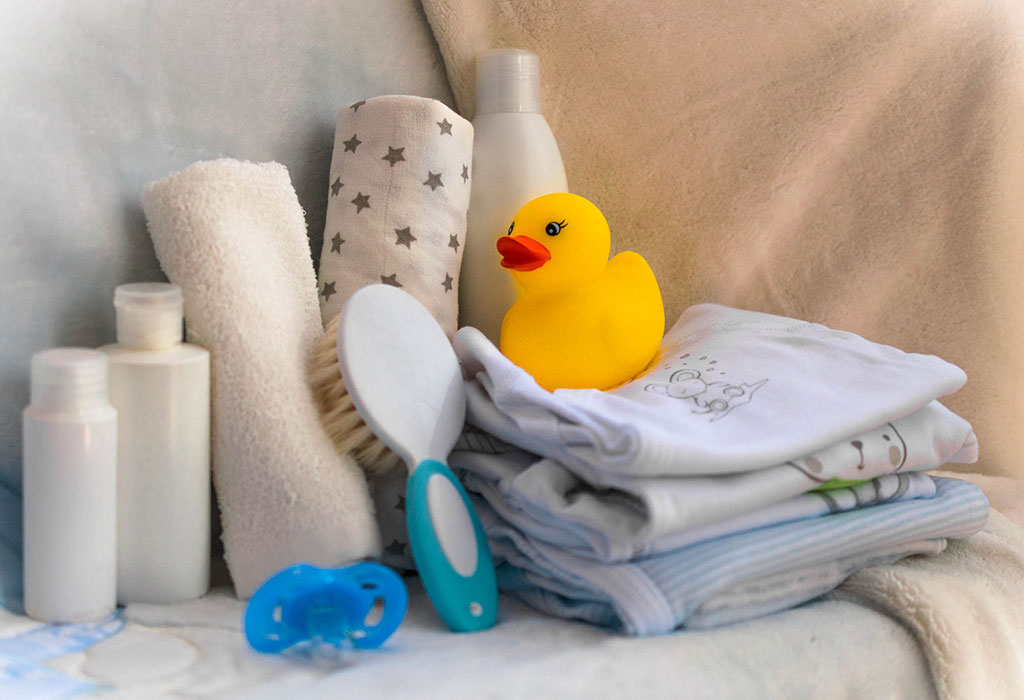 4. Comb – a baby's hair, while it may not be long and thick, still needs to be combed and kept tangle free
5. Bathing Tub – a bath tub specially designed for babies might be the surest way to avoid unnecessary accidents while bathing.
6. Baby Towel – these are much softer than adult towels, made of only natural fibres, with no harmful chemicals used to treat the fabric.
7. Nail Clipper – to trim your baby's nails so she doesn't accidentally hurt herself with them.
Sleeping
Did you know that newborn babies spend most of their early 4 months just sleeping? Your baby may sleep anywhere between 15 and 20 hours a day! Indeed her sleep environment has to be conducive to this. Here are the things you need to buy to ensure best quality sleep.
Sleeping Aid and Nursing Wear for You:
1. Nursing Gown – these can make night-feeds far more convenient.
2. Eye Mask – some days, you might find it difficult to doze off, after having a tiring day. Eye masks will help you block the light out, and help induce sleep faster.
Sleeping Aid & Products for Baby:
1. Crib or Cradle – if you are NOT going to co-sleep with your baby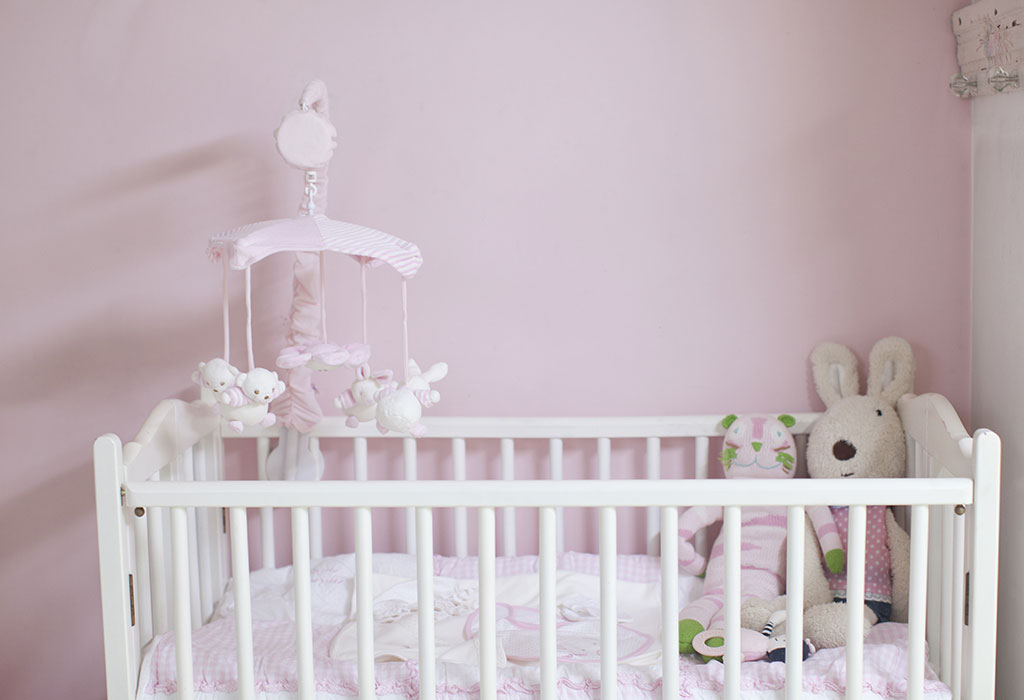 2. Mattress – to go into the crib or cradle
3. Sheets – for the mattress
4. Crib Pads – these are usually made of a non-absorbent material (like rubber) in order to protect the mattress from getting dirty, in case your baby wets her bed at night.
5. Blanket – to tuck your baby in!
6. Baby Monitor – these can be life-savers! But many parents also make it work without baby-monitors. You choose.
7. Mosquito-Net – to keep your baby protected from those blood-sucking insects!
8. White Noise/Music – for the times when your baby is feeling too fussy, or finding it difficult to actually fall asleep in spite of being sleepy!
Health and Well-Being
Baby falling ill is every mother's worst nightmare. Here is a list of things you can keep handy to not only avoid but also deal with such situations when they arise.
Health Care Products for You:
1. Common Painkiller – cos let's face it: mommying is a tough job!
2. Pain-Relief Balms and/or Spray – for any aches or pains that may plague you
3. Disinfecting Hand-Soap – this is important because you are going to be touching your baby again and again, after having touched all the things in the house!
Health Care Products for Baby:
1. Paediatrician – the hospital where you delivered your baby might have a paediatrician attached to it… or you may want to consult one you've known or been pointed to (by a relative or friend); regardless of the source, a paediatrician is a must!
2. Common Baby Medicines – these include fever, cold, cough, and stomach medicines (since these are a newborn's most common concerns). You might want to look at options for pains and aches too (for example teething pain).
3. Thermometer – for the unfortunate time that your baby gets a fever.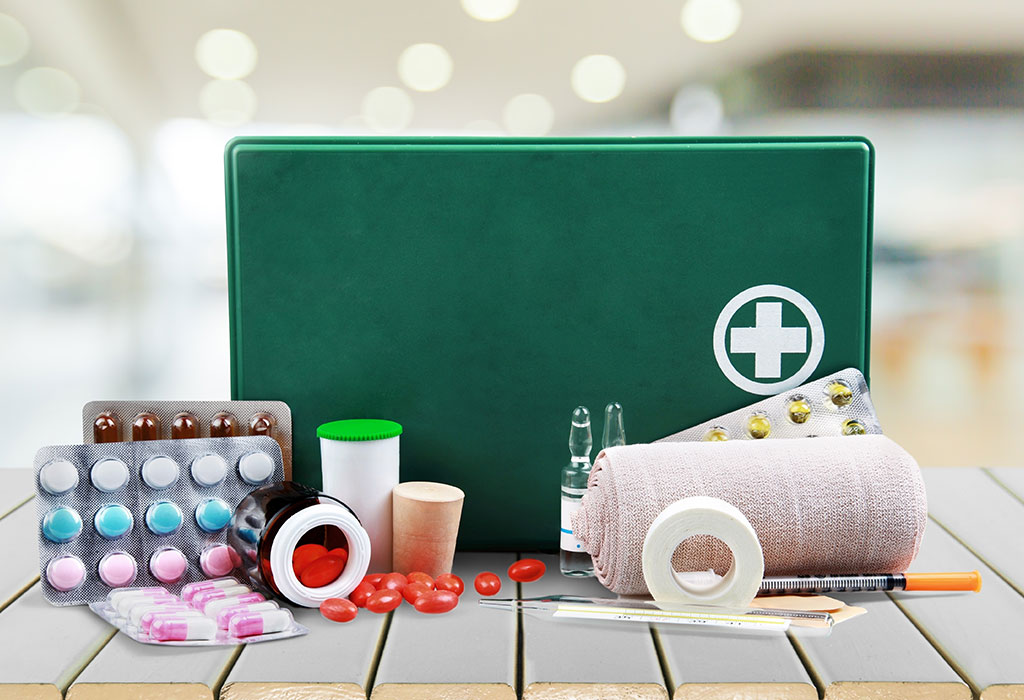 4. Insect-Repellent – especially for mosquitoes.
Accessories:
The following things are an add-on, depending on what choices you make for your baby as a parent:
1. Pram or Stroller – for your baby's daily excursions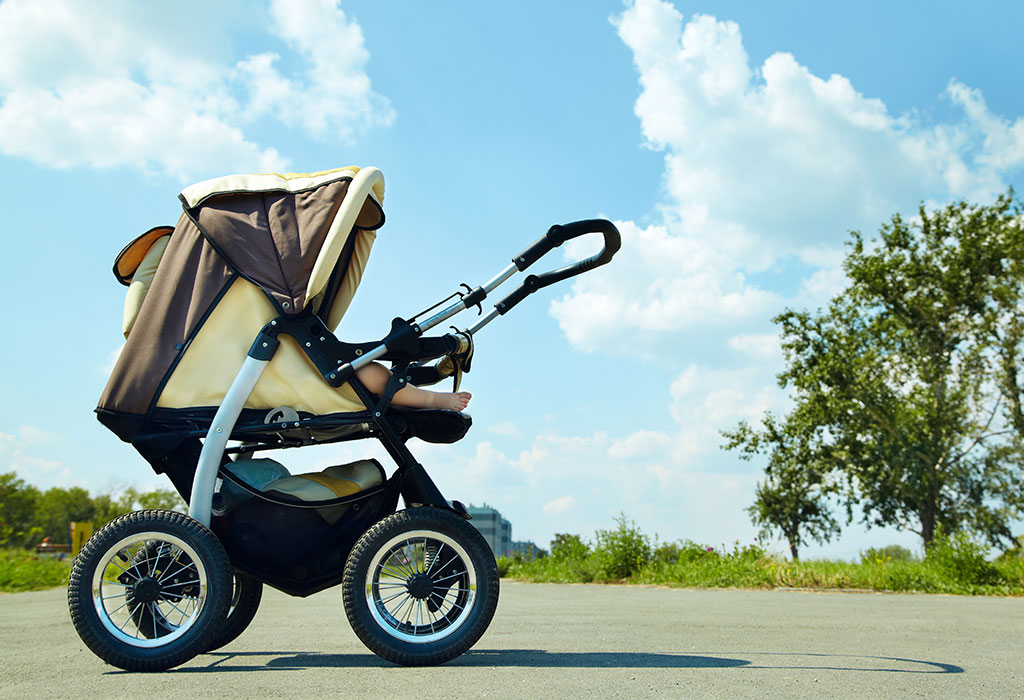 2. Car-Seat – for when you want to take your baby for a drive!
3. Sling or Harness – to 'wear' your baby
4. Toys – you will find yourself buying these throughout the year and beyond, as your baby grows older. Look for toys made of baby-friendly materials, avoid toys that have sharp edges, and make sure you keep the toys clean too (along with other belongings of your baby).
5. Pacifiers – for when you can't be there for your baby
With this extensive shopping checklist, you are now ready to provide for your baby's all needs, making her entry into the world easy, comfortable, and fun!