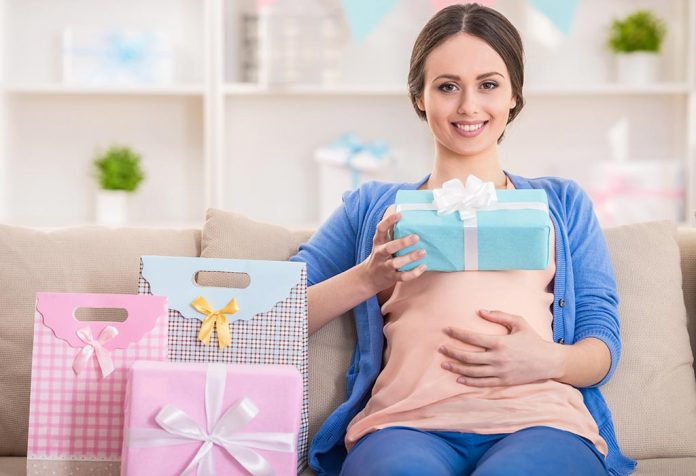 A baby shower is hosted just a couple of weeks before the mother-to-be delivers the baby. It's a great way for her to cope with the prospect of having a new baby. With her girlfriends around, the mommy-in-waiting can share space in an environment where baby tips, support and baby gifts are within reach.
What Gift to Bring for a Baby Shower?
If you're reading this article, there's a high chance that you've been invited to a baby shower for one of your close friends. The only question is, what's the perfect gift? Well, there is no such thing as a perfect gift, but there are several amazing and interesting gifts (30 of them to be precise!) that will make the room go "aww" or have everyone in splits.
Unique Baby Shower Gifts
Here are some wonderful and adorable gifts you could get for a baby:
1. Superhero Onesie
 Little babies always look cute in their superhero costumes. Go for the latest trending heroes such as Spiderman, Superman and Batman.
2. Superhero Booties
 Buy some superhero-themed booties to go with those onesies. The trending superheroes include Spiderman, Superman and Batman.
3. Footie Pyjamas
 Get a cute footie pyjama with the print of a princess or a cute animal.
4. Name Book
 Naming a baby may be a source of confusion for some couples. Buy a book with a list of names along with their meaning for the new couple to help them out.
5. Mermaid Costume
 You can get a bralette and bottoms with a mermaid theme made from crochet. This is comfortable to wear and great for photo sessions for the new arrival.
6. The Three-Piece Suit
 Turn that bundle of joy into a pocket-sized lady killer with this little item. Though this will be used only by the time they're about a year old, it's worth the wait!
7. Soft Toys
 One of the standard gifts to be given to any baby. The plush toy can be a cute animal, ballerina or princess.
8. Pillows
You can get a pillow that has a princess print or is heart-shaped.
Best Baby Shower Gifts For Mothers
In all our zeal and excitement over the baby, many people often forget the one who's holding down the fort. Here are a couple of gift ideas that are mom-centric.
1. Parenting Books
Parenthood is an overwhelming experience, and an innovative way to help your new mom friend out is by getting them a book. Figure out what her main concerns are as a parent and find a book that helps them address it. Some of the options available include:
 A treasure trove of ideas on how to spend time with your kids at different locations.
 Uses scientific facts to and applies it to parenting.
Heavy scientific facts are explained in layman terms with a dash of humour.
2. Diapers
Every new mum's secret desire is to get an endless supply of diapers. Buying a month's supply of this utility gift will help the new mum save up!
3. Spa Coupon Card + Baby Sitting Service:
Once the pregnancy is over, and the baby is out, the mom to be won't have a moment's rest. Offer them a chance where they can take a break and rejuvenate their senses.
4. Newborn Baby Carrier
One of the better utility-based baby shower gifts for mum to be, it lets them be close to their babies and stay hands-free simultaneously.
Homemade Baby Shower Gifts Ideas
To those minimalists out there who prefer using your own skills, here are a few handmade baby shower gifts you could explore:
1. Food Delivery
 Are you known in your friend circle as the head chef? Offer your services to deliver home cooked food for the mother to be for a month. She's likely to be exhausted taking care of the baby right after delivery. Do your bit by lightening the workload for the couple by offering them some delicious Ghar ka khana.
2. Gift Baskets
 One can buy a container preferably made from bamboo or other kinds of wood for an authentic feel. You can stock up on some goodies along with the caption on the basket reading "Mommy Survival Kit".
nail clippers, cotton swabs, baby hairbrush
Booties, onesies, socks
  Soft Toys, Rattler, Blocks, Baby spoons
3. Hand-Made Blanket
 Good at knitting? You can try making your own blankets for the new arrival. Try to avoid synthetics like acrylic yarn and stick to cotton or wool. Note that cotton can be a little slippery and takes time to get used to it so start early!
Personalised And Cool Baby Shower Gifts
These types of gifts have their own little charm as you can't find them at any shopping malls, and so have special relevance.
1. Mugs
 One can get printed mugs with captions such as "Mommy Fuel for (Name of the Mom to be)" or "Promoted to Dad in 20XX."
2. Onesies
 Ditch the readymade onesies for some cool, stylish customisable onesies with cool captions like:
"Bows Before Bros" (with a bowtie in front) or "Firefighter in Training."
"I'm an acute girl" (with acute angle print in the background) or "Daddy's princess."
"MyCrib.2A.M." or "Feed Me"
3. Letters
 Are you someone with a flair for writing? Write a beautiful letter about the benefits and honours of being a mother. Mail it to the mommy prior to the baby shower with perhaps a sweet poem in the end.
DIY Baby Shower Gifts
Below are some baby shower gifts to make with your own two hands!
1. Diaper Babies
Make your own fun diaper babies in a basket for the shower.
Diapers, Coloured baby washcloth, Felt pen, Baby socks, rubber bands, safety pins, Basket.
Five steps
Firstly, roll the diaper up and use a rubber band to keep it that way. Secondly, use a brightly coloured baby washcloth to wrap the bottom half of the diaper and use a safety pin to hold it in place. Thirdly, use a felt pen to draw eyes, nose and a mouth using facial expressions to indicate a sleeping, happy or wide-awake baby. Fourthly, cover the top part just above the eyebrows with a tiny sock to make it look like a cap. Finally, repeat this with 5-6 diaper babies and neatly stack them in the basket.
2. Baby Medicine Cabinet
Make a medicine cabinet to keep baby health items like medicines, thermometer, nose drops, ear drops and more.
Transparent plastic 2 drawer cabinet, Computer, Printer (optional), Scotch tape, ribbons, pen
Four steps
Firstly, Use MS Paint and Excel to print out three sheets. Two of the sheets should bear a big medical '+' sign with the captions on the first as "Baby Tummy Medicines" and the second as "Baby ENT Medicines". The third sheet should also have a big '+' but have a table with three headers "Time, Medicine and Dosage". Secondly, these sheets can now be stuck on the plastic cabinet with scotch tape. While the table sheet can be stuck on top, the others can be stuck in front of the cabinets indicating what goes into which cabinet. Thirdly, ribbons can be attached to the sides of the cabinet for decorative purposes. Lastly, a pen can also be put into one of the drawers with a ribbon which can be used to fill up the table.
3. Bubble Maker
A ridiculously simple tool that can keep the baby and the parents entertained for hours on end.
2 sturdy 30-centimetre wooden rods, A malleable wire of approximately 50 centimetres, a scissor, baby friendly soap.
Three steps
Firstly, cut the wire and wrap one end of the wire securely to the wooden rod. Secondly, make a circle out of it until the other end of the wire reaches the rod. Now, fasten the free end of the wire onto the wooden rod as well. Lastly, dip the wire end into a soap solution with the baby friend soap and blow the bubbles! Note: The second rod can be used to fashion another circle of smaller circumference. This way, you can alternate between making small and big bubbles.
Creative Baby Shower Gifts
These make good unisex baby shower gifts as a child's genius is irrelevant of sex. Some of these gifts would go well to spark your friend's child's creativity:
1. Baby Books
A baby can't read, but that can't stop their parents from reading out stories to them! Get a baby book with large illustrations so that they can get visually stimulated. With these illustrations in mind, your gift could potentially awaken the Picasso within the kid!

2. Toys that Make Animal Sounds
 Auditory stimulation can keep the baby pre-occupied as well as help them learn. Rather than going for the conventional rattlers, go for toys that make animal sounds. This not only helps them learn about animals but helps them distinguish between sounds sharpening their creativity.
3. Building Blocks
Apart from sharpening their motors skills and teaching them the finer points of sharing, these blocks can help babies construct unique miniature marvels as they grow older.
Funny Baby Shower Gifts
Parenting should be fun, and you can make that happen by presenting some unusual baby shower gifts such as:
1. Baby Neckties Stickers
These are available in hilarious milestone captions such as "I can stand!" or "Just Born". Just slap them on any piece of clothing, and they're good to go.
2. Snail Costume
A unisex costume made from crochet, this can make for some interesting photo opportunities.
3. Baby Mop-sie
What do you get when you combine a mop and a onesie? This innovative onesie mimics a dry mop with the attached strings sweeping the floor as the baby crawls across a room.
Inexpensive Baby Shower Gifts
You needn't spend a small fortune on your friend's baby. Often, it's the little things that can mean the most.
1. Baby Neck Pillow
A gift of great utility, this pillow helps the baby sleep without you having to worry about their heads being at awkward angles. One can pick these up for about100-250 Rupees. There are some varieties that offer sweat resistant material for the summer months.
2. New Born Photography Session
Are you an amateur photographer? The baby shower is bound to have a couple of funky outfits for the baby. Offer your services to take some winsome photos of the little bundle of joy.
3. Photo Album
Is your friend old-fashioned? Get her a photo album so that she can chronicle her baby's first few months with some adorable baby photos. Many of them come with cute baby themed designs for less than 400 Rupees.
A baby shower can do wonders for a woman's soul. It brings her together with her tribe and is a celebration of the even that is about to unfold. Though these gifts should have given you a good idea of what you can get your friend, the best gift of them all is just being there for them.