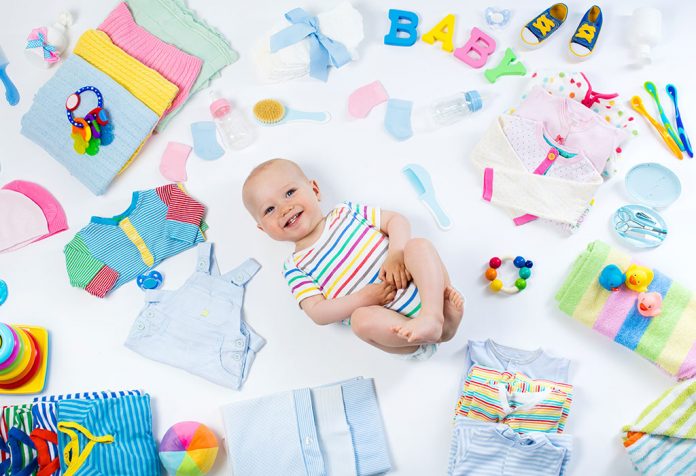 What are the most essential things a newborn baby needs?  Although it is a popular belief that you should start shopping only once the baby is born, it helps to be prepared for the arrival of your newborn. Most parents buy shoes, toys, blankets and sometimes even a bigger house before or immediately after their baby is born, but the list of essentials really doesn't have to be this complicated.
Things To Buy For Newborn Baby
Read on to find out the basic new born baby products list that is needed for the first couple of months.
1. General
While getting this baby item list ready from A to Z , it is necessary to keep in mind every little activity of your bundle of joy, every aspect and every season. Your newborn baby requires different sets of clothing and accessories for different phases. Here are newborn baby essentials that are further divided into specific purposes.
2. Breastfeeding
Irrespective of the method you choose to feed your little one, the list below gives you a clear idea of what baby feeding essentials you require.
Nursing clothes: For new nursing mothers, light materials and nursing covers are a good option. Choose nursing bras, nightwear and tops, along with nipple cream and nipple shields to protect your skin.
Breast pumps:  There are different types available in the market such aselectric and manual breast pumps. Choose between pumps that have an open or a closed system, or pumps that work on one or both breasts at the same time.
Steriliser: Whether you are breastfeeding or bottle-feeding your newborn baby, you will need to sterilise the teats and bottles until the baby is a year old.
Formula: If you are also bottle-feeding your baby, you will need to add feeding essentials on the baby-shopping list. Buy a brand of formula that your baby's paediatrician recommends. Start with a single tin to see if your newborn baby has allergies, discomfort or constipation from this particular brand.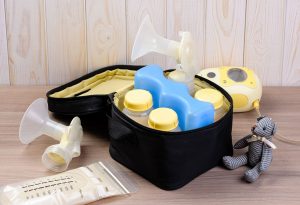 Feeding bottle: Anti-colic nipples on feeding bottles are the best kind for newborn babies. The amount of air the baby swallows during feeding is minimised this way. Feeding bottles must be BPA free and of good quality material that can endure high temperatures.
Bottle cleaning brush: It is essential to rid the feeding bottle of leftovers after every feed. The bottle steriliser when combined with the cleaning brush can help maintain cleanliness and hygiene.
Thermos: A flask is an ideal container to store hot water. Boiled water can be kept in the thermos and used to mix formula milk.
Bibs and muslin cloths: While bottle-feeding or breastfeeding your newborn baby, use a bib on the baby to avoid spills and mess. Muslin cloths are ideal to mop up spills, soaking up drool, and keeping your clothes clean while feeding your newborn. A support pillow helps with maintaining a comfortable posture while breastfeeding your baby.
3. Bedding
While it is advisable to let your newborn baby sleep in your room for the first couple of months, it is ideal to plan your newborn baby's sleeping area. If you decide to co-sleep, it is necessary to keep the baby's area firm and safe. Add a blanket and sheets based on the weather conditions.
Baby mattress and crib: A lightweight crib or Moses basket with a firm, well-fitted new mattress is the first item that goes on your baby bedding essentials list. Avoid investing in fluffy blankets or mattresses since these could smother and suffocate the baby.Instead, use light sheets and tuck them in firmly. As long as this pillow is double layered and properly stitched, it is a better choice than soft pillows.
Baby blanket and sheets: Lint-free good quality blankets and sheets are the best choice for your newborn baby's bedding. The blankets should be breathable. Pick light colours for bedding. Mattress protectors or quick dry sheets are necessary to ensure your baby has a dry, comfortable bed to sleep in.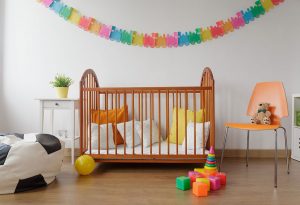 Mosquito net: You can never be too careful when it comes to mosquitoes around your newborn baby. A mosquito net along with an ultrasonic mosquito repellent can protect your baby from bites and diseases.
Baby monitor: If your baby has a nursery to sleep in, you will need a baby monitor from a good company, which will help you keep an eye on your sleeping child. Ensure it is the rechargeable kind, which is more long lasting.
Mobile: Add a dash of cuteness to your baby's bedding by hanging a mobile made from safe, non-plastic hangings. The mobile will add colour to the room and also keep your baby occupied.
4. Diapering
When you think of newborn babies the first aspect that comes to mind apart from the word 'adorable' is diaper. This item owns a top position in the baby essentials shopping list.
Disposable diapers: Avoid buying diapers in bulk. Instead, buy sample packs of 3 brands and try each on the baby. Depending on the most comfortable brand, buy the remaining in bulk for your newborn baby. These diapers come in handy during outdoor visits.
Cotton nappies: Reusable cotton nappies are a safe option on sensitive baby skin. However, these nappies need to be changed soon as they are soiled, which requires you to stock up on them so that you don't run out before you can toss them in the laundry.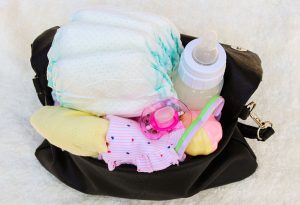 Rash cream: Buy a good quality diaper rash cream and keep it handy. Use it based on instructions from your baby's paediatrician.
Wet wipes: Cleaning your newborn baby's bottom needs to done gently and hygienically. Wet wipes let you retain the moisture in your baby's skin while leaving the area clean and smelling fresh.
Changing mat: Keep bed linen and other materials from getting soiled while changing your baby's diaper on a changing mat. Easy to clean and use, these mats are highly useful during travel.
Dustbins and garbage bags: To keep the dirty diapers before throwing them out, separate garbage bags and dustbins are a safer and cleaner option.
5. Clothing
The first thing you must buy for your newborn baby is clothes. Newborn baby clothes  must be comfortable, cotton based and have safe motifs, if any. Buy soft fabrics and avoid, glitter, heavy embellishments, sequins, ribbon, ties and buttons, because these can be choking hazards or be the source of skin irritation. Don't buy too many clothes as newborn babies grow fast. Consider weather conditions while buying the following items.
Sleep suits: Full body suits or sleep suits are designed for newborn babies for easy changing and dressing. Buy a dozen sleep suits with press-up buttons on the front from the neck to ankle.
Tops: Dressing a newborn can be slightly tricky considering your baby is delicate and tiny. Avoid dresses that have buttons on the back or go over the head. Buy 5-6 sets of tops or singlets that have envelope necks or open fronts.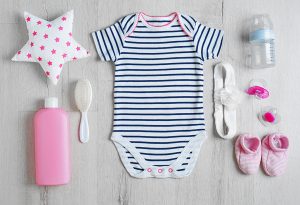 Socks: It is essential to keep your newborn's feet warm all the time if the temperature drops or when going outside. Buy up to 3 pairs of cotton socks with cute patterns for your little one.
Caps: A newborn baby's head must be covered with a blanket, hood or cap to keep the baby warm and give it the feeling of being secure Cotton caps that cover the baby's ears are the best pick.
Swaddle cloth: Wrap around cotton blankets or swaddle cloths are a must. Warm yet breathable, swaddling a baby lets the baby feel safe and warm.
6. Bathing and Cleaning
For the first couple of times, newborn babies just need a quick wipe using a sponge or cotton swab. However, it isn't long before your baby will have some a fun splashes in the bath. This is also a special time when parents can bond with their newborn babies.
Bathtub: Based on the size of the baby and your comfort, pick the ideal bathtub from the array of options available in the market. While plastic tubs are easier to clean baby bath essentials, a convertible tub can expand as your baby grows. You can also choose inflatable or foldable tubs, which come in handy while travelling.
Towels: Buy 2-3 soft bath towels made from absorbent material and circulate them. Light coloured cotton towels are the best option.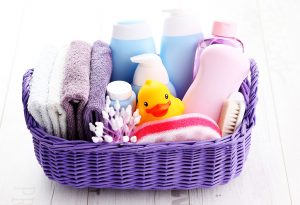 Baby wash & shampoo: Tear-free, mild, fragrance-free shampoos and baby wash is a must-have. Buy a small bottle and check how it reacts with your newborn baby's skin before stocking up.
Massage & hair oil: You can use traditional oils such as almond or coconut oil to massage your newborn baby. If you are buying bottled oils, get the gentle, organic based ones, or check with your baby's doctor for recommendations.
Baby cream: Moisturise your newborn's skin with a good baby cream that needs to be applied after every bath. Do a patch test on your baby before applying it all over the body.
7. Safety
Baby proofing your home prevents mishaps and accidents, while creating a safer environment for your newborn baby to grow in. Invest in high-grade carbon monoxide and smoke detectors for your home. Playpens and stair gates are much needed to avoid falls and keep your baby in a particular area. Window and cupboard catches, plug socket covers, fireguards, furniture corner protectors and many other recent inventions can help protect your newborn baby make your home baby-safe. A thermometer, a first-aid kit and a book on illnesses are essential items to keep when there's a baby in the house.
8. Baby Gear
It is essential to have key baby gear items ready whether you're getting ready for mealtime or going out. Invest in a kangaroo pouch baby carrier for your baby. As your baby grows, you can put him in a rocker, baby swing, bouncer, stroller or pram. The market has come out with a list of baby gear products available in an assortment of sizes, colours and different purposes.
9. Leaving the House
Depending on the mode of transport you want to take, it is important to be travel ready. Choose the best and most economic options while investing in baby essentials for when you are out of the house with your baby.
Diaper bag: Get a fashionable, trendy diaper bag, which has enough room and pockets to store all baby essentials while travelling.
Car seat/baby stroller: Invest in these products only if you plan to use them often and the area you live in is stroller friendly. If you are a more homely person, then cut this expensive item off the list.
10. Health
Making regular visits to your baby's paediatrician's clinic or the hospital is important to keep your newborn child healthy. It is important to clip your newborns nailsl using only baby clippers. These scissors have curved blades with rounded points to ensure safety. Hand sanitisers are essential to keep your hands clean at all times while managing your newborn baby.
Season-Wise Newborn Baby Essentials Checklist
When buying newborn baby essentials it is necessary to consider the weather conditions in order to get your little one what is necessary for the current season From choosing the warmest clothes to buying cosy sleeping necessities, here's a list of items to invest in according to season.
1. Summer Essentials for Newborn Babies
In addition to the detailed checklist mentioned earlier here are several items you will need for a baby born in summer.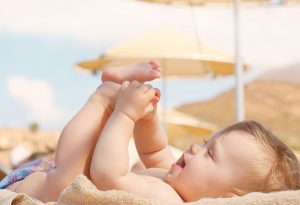 Baby vests: Body suits or vests with popper buttons and envelope necks are ideal summer-wear options.
Sleep suits: Newborn babies live in sleep suits for the first couple of months.
Sunshade for the car or pram: Ideal for travel, fix a shade on your baby's pram and on your car windows to protect your newborn baby from a heatstroke.
Summer hat: Pick a hat with a rim so that your baby's eyes are shielded from the sun.
Muslin cloths: Most rocking chairs, prams and car seats come with synthetic fabric that makes your little one sweat. Cotton sheets keep your baby cool when you line anything with them.
Sun block: Check with your baby's paediatrician for the best type of sunscreen to use on your newborn baby's delicate skin.
2. Winter Essentials For Newborn Babies
During winter, the temperatures drop, making it harder for your baby to stay warm without additional clothing. Take care of your baby's health and wellbeing with this checklist.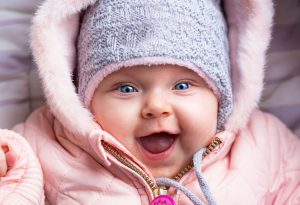 Baby quilt: The market has a variety of baby quilts made with soft materials, and available in different sizes, patterns and colours.
Flannel sheets and blankets: Invest in good quality blankets or flannel sheets with hoods. These are ideal to wrap your newborn in during cold days.
Full-sleeved vests: Cotton vests are preferable since they directly go on your baby's skin. Layer baby with other clothes, with an additional woolen layer.
Thermal wear: For extra warmth your baby needs thermal pants and vests.
Sweater or cardigan: The final layer on your newborn baby's winter clothing can be a sweater. Keep an eye on your baby's skin to see if the wool creates a rash. If this happens, opt for several cotton layers along with a wool blanket.
Woolen caps and booties: Most sweater sets come with socks and caps, for your baby to have a matching set. Put the booties on top of a pair of cotton socks.
3. Monsoon essentials for newborn babies
For a monsoon newborn baby, you will need a few extra things along with the baby essentials listed for all seasons. These include: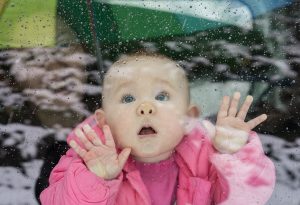 Short-sleeved baby vests: About 5-6 pairs of vests along with body suits are ideal during monsoons. When the weather is humid, a vest is all your baby needs.
Sleep suits: Loose fitting sleep suits come in handy during monsoons, especially if made from cotton. They are easy to wash and dry.
Cotton jackets: For cooler monsoon days you can put a cotton jacket on your newborn child. Buy a bigger size for your little one to wear during winter as well.
Insect repellent and prickly heat powder: Consult your baby's paediatrician for the best repellent, cream and prickly heat powder. Use these on your baby to protect him from mosquitoes and a heat rash in the monsoons.
There are a lot of to-dos while prepping for your newborn's arrival, and shopping for the all the essentials listed above is one of the most important things. With this list, we have broken down all the newborn baby essentials you will need to keep your little one healthy, comfortable and happy. Stock up on the bare-bones list of baby items before or soon as your newborn arrives!
Read this article in Arabic: التسوق للمولود الجديد