If you are new parents, discussing your baby's pooping habits must be a regular thing now. You'll be surprised at how much you think, discuss, and worry about your baby's poop schedule. If your baby has a hard time passing stool or passes a lot of gas daily, then without a doubt, you will worry and might think of consulting your baby's paediatrician at odd hours. We understand your concern, but there is no need to panic. Your little one might be suffering from constipation, and it is very common in babies and toddlers.
A child's pooping habits will depend on his eating habits. There are some foods which tend to constipate babies, especially when you start giving them solid foods. Read on to know about the various foods that can cause and relieve constipation in children, and find out how you can ensure that your child has a good bowel movement.
Foods That Cause Constipation in Infants
If your child has just started eating solid foods and he is having difficulty in passing stool or has a dry and hard stool, then it is a sign of constipation. Baby's fluid intake and diet will determine his bowel movements. Here is a list of foods that cause constipation in babies.
1. Milk Protein
Milk protein can cause constipation in babies. Milk proteins other than in the breast milk can cause this problem, and as a parent, you need to be careful once you start giving formula milk to your baby. Sometimes, babies may even develop an allergy to the protein present in breast milk, which may result in constipation.
2. Formula Food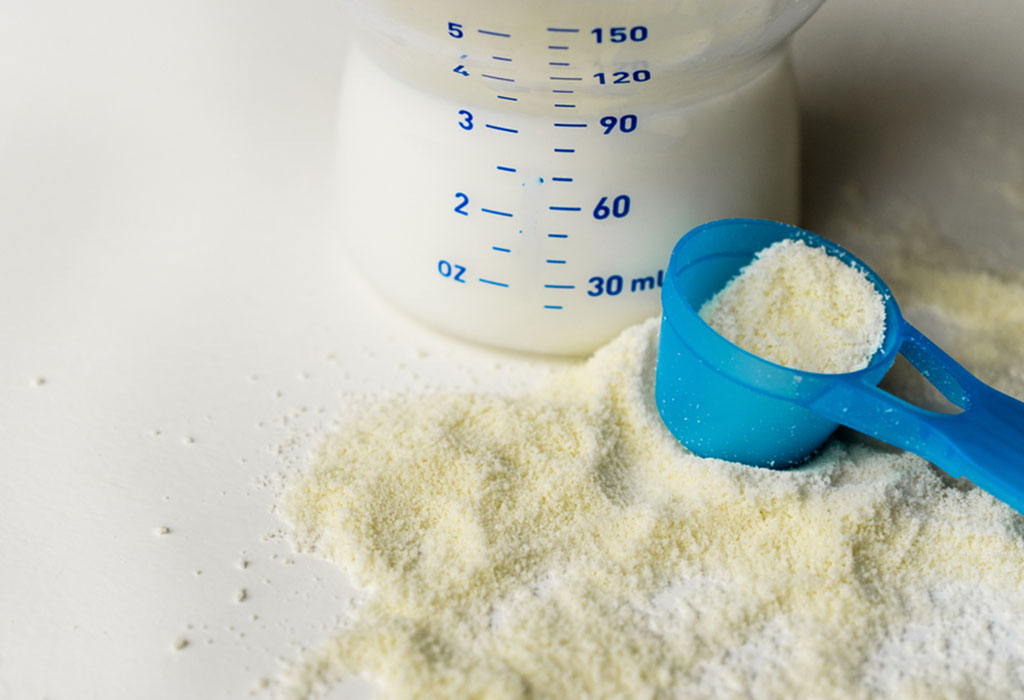 Babies are often fed formula in their early years. Formula food consists of ingredients that are difficult to digest, which might result in constipation. Formula milk even contains complex proteins that may harden the poop and thus cause constipation.
3. Rice
Rice and porridge are the two solid food for babies that most mothers think of introducing as the first food to their babies. But some babies may find it hard to digest rice and may feel constipated.
4. Carrots
Carrots, when given raw or in the form of juice, are usually good for babies. But, if you feed steam-cooked carrots to your baby, then he might feel constipated. Steamed carrots tend to solidify the poop making it difficult for babies to excrete.
5. Raw Bananas
Babies are often fed raw bananas, as cooked vegetable, or as a porridge made out of sun-dried raw banana powder. Although giving a ripe banana is good, unripe banana is not. If you give an unripe banana to your baby, he might feel constipated and have gastric problem. Under-ripe or unripe bananas have starch in them, which can be hard for a baby to digest.
6. Apples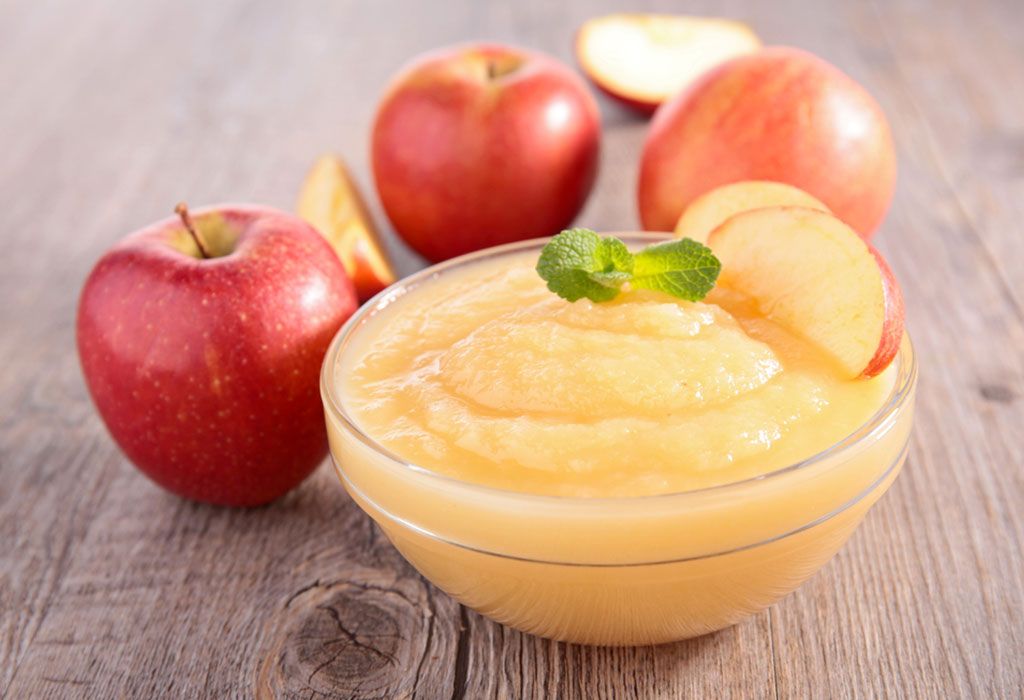 Apples are known to harden the stool so eating them while suffering from diarrhoea can help. But steamed apples, a popular baby food, can cause constipation in babies. So don't give steamed apples to your baby. Also avoid giving applesauce to your baby as it contains pectin protein, which hardens the stool.
7. Cheese
Cheese is an excellent source of many essential vitamins and minerals and is a superfood for babies. It is usually given to babies as a snack. However, cheese is low in fibre and can cause constipation.
8. White Bread
White bread, made with all-purpose flour, is a processed form of grain and is low in fibre. Fibrous foods are known to improve digestion. However, white bread lacks fibre in substantial quantity and can cause constipation in babies.
9. Potatoes
Regular potatoes with skin have about 3 gm of fibre and can prevent constipation. If you give your baby potatoes with other veggies, then it won't be a problem. However, if you give him potato chips or potatoes with butter or sour cream, then he may suffer from constipation.
10. Yoghurt
Yoghurt contains good bacteria that facilitate digestion. But, it also has a binding effect on food substances and sometimes may cause constipation in children.
Foods That Help Relieve Constipation in Infants
Now that you know which foods cause constipation in babies, so avoid incorporating them into your baby's diet. If your baby is already suffering from constipation, then include these high-fibre foods in your baby's diet. These foods will not only relieve the condition but also prevent it from occurring in future.
1. Prunes
Prunes are rich in fibre and a great source of multivitamins. Being a good source of fibre, they can ease and speed up the bowel movements. Prunes can be soaked overnight and given to a baby first thing in the morning. You can also give your baby prune juice. Prunes and prune juice are an excellent remedy for constipation.
2. Beans
Beans are packed with fibre and can be included in a baby's diet if he is suffering from constipation. Eating beans will improve his bowel movements. As beans contain both soluble and insoluble fibre, it will help in digestion of food and help your little one excrete properly.
3. Green Peas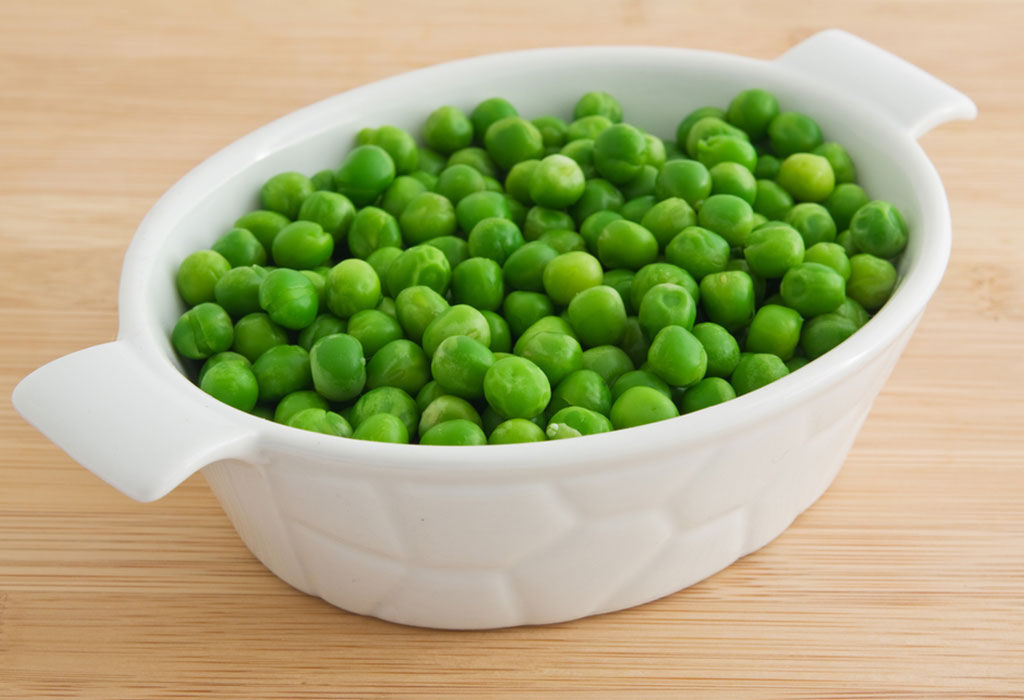 Fresh green peas available in winters are loaded with fibre – they are a perfect food to include in your baby's diet if he is constipated. Peas can be given as a simple snack by just boiling and seasoning. Infants can be given boiled peas in the pureed form to aid bowel movements. 
4. Apricots
Apricots are another seasonal fruit used for treating constipation. It can be given raw or in the form of juice. Dried apricots are also available in the market, which can be soaked overnight and given to babies.
5. Oatmeal
Oatmeal, a common and widely preferred food for babies, is an excellent food for children with recurrent episodes of constipation. Oatmeal can provide your baby with much-needed fibre and can prevent constipation.
6. Pears
Pears are rich in fibre and Vitamin C. Both fibre and Vitamin C aid in proper digestion and relieve constipation. Babies can also be given a few drops of fresh pear juice to cure constipation.
7. Broccoli
Broccoli, a superfood for babies, is a rich source of protein and fibre. Broccoli is also a good source of fibre, Vitamin C, Vitamin K, and folate. Green vegetables like spinach and broccoli add weight to stools, making them easier to pass through the gut. You can give small steamed broccoli florets to your baby as finger food. Broccoli also contains sulforaphane, which may protect the gut and aid digestion.
8. Sweet Potatoes
Sweet potatoes, unlike other tubers, are one of the best baby foods and they do not cause constipation. Sweet potatoes can help in relieving constipation and provide essential nutrients and carbohydrates to your growing baby.
9. Berries
Berries are rich in antioxidants and are an excellent food for babies and toddlers. They are also high in fibre, which is why they are a must-include in your baby's diet. You can give berries to your baby in pureed form. By eating berries, your little tot won't complain of constipation.
10. Whole Grain Bread
Whole grains foods have high fibre content in them, which is good for the heart as well as for the digestive system. You can give whole wheat bread to your baby – it is high in fibre and will prevent constipation in your little one.
FAQs
1. How Will You Know That Your Baby is Constipated?
If your baby is constipated, he obviously won't be unable to communicate that to you. So watch out for these signs of constipation in him –
He has three or fewer than three bowel movements in a week.
His stools are hard and dry.
He has a hard time pooping.
He cries continuously and has a stomach ache.
2. How Can You Prevent Constipation in Your Baby?
To prevent and treat constipation in babies, here's what you can do:
If your baby has crossed the six-month mark, you can make him sip water in small amounts. Before six months, he will get all the hydration he needs through breast milk. Later, you can start with foods that contain water and fibre, as water and fibre will improve his bowel movements.
Include high-fibre foods in his diet. Make prunes, berries, whole grains, and pulses in his diet as they are high in fibre content and aid digestion.
Get your child into the habit of pooping. Once he is ready for potty training, make sure you make him sit on the toilet seat for at least 10 minutes at about the same time daily. It will get him into the habit of going to the toilet.
Many times, parents go through a lot of stress when their babies suffer from constipation. If your child is constipated, don't worry. By making slight changes in his diet and encouraging him to do some physical activity (however, small) regularly can cure constipation and other stomach-related problems in him. However, if the problem persists and your baby doesn't feel better, consult a doctor.