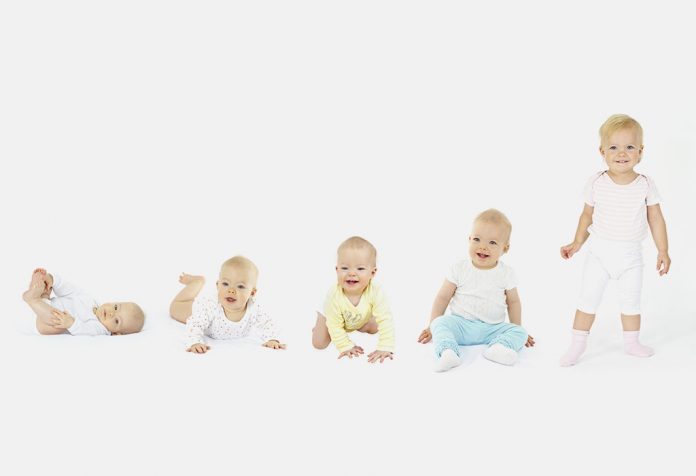 If you are a parent of a baby girl and are anxious about understanding her growth in the first year, here's something to help you. Read on to know more about the growth chart of a baby girl. Your little girl's paediatrician usually tracks her height and weight changes in the form of a growth chart. This serves as an ultimate guide to determine her growth and also to rule out any developmental delay.
Baby Girl Growth Chart (0-12 Months)
A growth chart for a baby girl is plotted based on her height, weight and head circumference measurements taken from time to time. The first set of measurements is taken at the time of birth. The doctor usually weighs the girl by placing her on a weighing scale meant for babies. The height is measured by making her lie down on her back and measure her length from head to toe. Head circumference measurement is taken by using a measuring tape around her head, at the level of the eyebrows. Subsequent measurements are made during the regular visits to the doctor or at the time of vaccinations. These values are joined to get a growth curve which is helpful in characterizing the pattern of growth. The percentile growth of the girl baby is calculated by comparing it to a standard growth chart from the world health organisation (WHO). The WHO chart is devised based on the data collected from several thousand healthy baby girls to derive at a percentile calculation. The minimum value corresponds to 3 percentile, while the maximum to 97 percentile. Typically a baby's growth parameters can fall anywhere in this minimum to maximum range.
| | | | |
| --- | --- | --- | --- |
| Age (In Months) | Weight (In kgs) | Height (In Cms) | Head circumference (In Cms) |
| 0 | 2.4 – 4.2 | 45.6 – 52.7 | 31.7 – 36.1 |
| 1 | 3.2 – 5.4 | 50.0 – 57.4 | 34.3 – 38.8 |
| 2 | 4.0 – 6.5 | 53.2 – 60.9 | 36.0 – 40.5 |
| 3 | 4.6-7.4 | 55.8 – 63.8 | 37.2 – 41.9 |
| 4 | 5.1-8.1 | 58.0 – 66.2 | 38.2 – 43.0 |
| 5 | 5.5-8.7 | 59.9 – 68.2 | 39.0 – 43.9 |
| 6 | 5.8-9.2 | 61.5 – 70.0 | 39.7 – 44.6 |
| 7 | 6.1-9.6 | 62.9 – 71.6 | 40.4 – 45.3 |
| 8 | 6.3-10.00 | 64.3 – 73.2 | 40.9 – 45.9 |
| 9 | 6.6-10.4 | 65.6 – 74.7 | 41.3 – 46.3 |
| 10 | 6.8-10.7 | 66.8 – 76.1 | 41.7 – 46.8 |
| 11 | 7.0-11.0 | 68.0 – 77.5 | 42.0 – 47.1 |
| 12 | 7.1-11.3 | 69.2 – 78.9 | 42.3 – 47.5 |
Understanding Baby Girl Growth Chart Percentile
The percentile method of quantifying growth can be a little confusing to understand. However, it is a simple way of quantifying the growth of your baby girl. This percentile calculation is derived from the standard values provided by the WHO growth chart.
Suppose a baby's weight is in the 75th percentile, it means that in a general set of girl babies, 74% of them weigh less than their weight and 25% above it. This gives a fair idea about the health and development of the child in comparison to the general standards. Each of the parameters namely weight, height, and head circumference have individual percentile values and almost always differ from each other. An overall assessment of the growth includes all the three parameters.
How to Read a Baby Girl's Height and Weight Growth Chart?
As parents, it is essential for you to have an awareness of how to interpret a weight and height growth chart. You can request the assistance of your baby's doctor to understand the infant girl growth chart better. There are many online tools available that help with the percentile calculations with weight, height or head circumference measurements. You can use one of them to arrive at individual percentiles, apart from plotting them as a graph to observe overall growth. Some points to remember while reading a growth chart are:
Always make sure that the comparison is made in the respective genders. There are slight differences in the minimum and maximum range between the growth values for a boy and a girl baby, which can lead to variations.
Measurements taken during a period of sickness does not reflect the actual healthy value, especially for weight. Therefore, a dip in the graph in such situations can be overlooked if there is a steady improvement in weight after recovery.
Fluctuations in weight due to various reasons like teething, loss of appetite, sickness, etc. can sway the graph mildly in a baby girl's weight chart. Known causes of weight loss need not be taken as a setback in growth.
Optimal percentile values are considered as a good growth rate, and it is not necessary that babies should always be close to maximum percentile range.
The baby's growth height and weight are important starting points that need to be kept in mind while assessing their growth. Babies who have started with low values, tend to catch up on the height and weight during the growth years. Therefore, the growth of each baby should be evaluated over a period of time, keeping in mind the birth values.
Errors while taking the reading of height, weight and HC are possible during the baby's first, due to their nature of constant movement. It can cause variations in the baby girl's height chart. You can request the doctor to re-take the readings if you suspect an erroneous reading.
When Should You Be Concerned?
While observing the baby's growth, if there is a sudden drop in any of the parameters then it can indicate a problem. In case, the graph drops downwards consistently; it probably indicates a developmental issue. Also, if any of the parameters are in the lowermost percentile, you can discuss this with the doctor. There could be a chance of malnourishment, and hence you could ask your doctor about ways to supplement her growth.
Following the growth of your baby girl especially in the first year of birth is very important in ensuring good health and also in ruling out any developmental issues.
Check & track your baby girl's height, weight & overall growth with our child growth tracker.