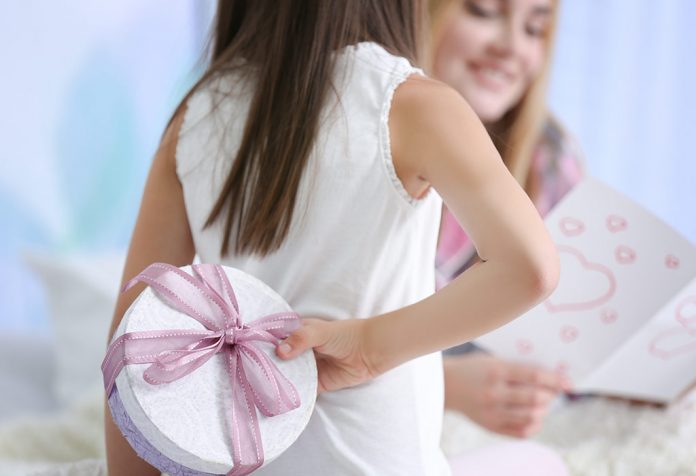 Moms always know what to get for their kids, and it's only fair that they get their share of special treatment on Mother's Day. You can get little things that you know your mom would love and use or make things on your own to add a personal touch to the whole gifting experience. There is no doubt that your mom will love anything that you give her or make for her. But if you're undecided about what to get your mom this Mother's Day, then here are a few ideas of good mother's day gifts that may be worth considering.
20 Best Mother's Day Gifts
Here are some wonderful choices of mother's day gifts that will surely bring a smile to your mom's face. You can also add your own touch or use a combination of these to make a unique gift that would mean something special to your mom.
1. World's Best Mom Goodies
Reminding your mom that she is the best can be done in a way that she is bound to remember. Mugs, pillows or kitchen magnets on which 'World's best Mom' is printed can be perfect for Mother's Day. You can add more items to the list to suit your mom's needs. These are the things that you mom will use every day and be reminded of your gift.
2. Customised Wooden Photo Plaque
Get a picture of your mom, or of you and your mom engraved on a wooden photo plaque and gift it to your mom. You can even get a picture of the whole family on it, with a special message for mom. It's a simple gift that speaks volumes and one that she will remember for years to come.
3. Necklace
A lovely little necklace that your mom can wear every day can also make for a great mother's day gifts from daughters and sons alike. You can even pick up some bracelets, bangles or earrings, whatever your mom loves wearing the most and make a set out of it that she will definitely love.
4. A Planner or a Diary
If you are aware that your mom has been trying really hard to plan her day or follow a diet, you could gift her a planner. It can be a gift that she uses every single day and one that finally allows her to plan her day and pen it down or simply use it as a journal to record the memories that she makes with you. It can turn into a beautiful habit that she can look back at years from now.
5. An Ice Mould
If your mom loves her beverages and wine cold, then what better than an ice mould! You could make it special by filling it up with some water and adding slices of citrus fruits or herbs to it to add to the look. It's the perfect gift for your mom that she can flaunt when her friends come over for a get-together.
6. Handy Clutch
If she's always losing coins and little items like her lipstick in the corner of her bag, you can think of gifting her a little clutch. She can use this to keep all those things organised and pull them out of her bag whenever she needs it in a jiffy.
7. Gift her a Book
Has she been talking about a book she wants to buy or does she simply love reading? What better gift to give a reader mom than a book she would enjoy? Give her the chance to sit back and enjoy mother's day with a book in a hand. Pick up a book that she's always wanted to read or get her one that will interest her.
8. Add to Her Garden
If your mom has been nurturing a beautiful garden, nothing would please her more than gifting her little saplings that she's always wanted to add to her collection. You can also think of getting her some handy tools for her garden. Hand pruners, garden tool bag, etc can be perfect for her.
9. Treat Her to Ice-Cream
Mommies love ice-cream too. Buy her a whole bucket of a sundae that she can sit and enjoy with you or the family. Make Mother's Day a family affair that everyone can enjoy. You can also take her out for an ice-cream party!
10. Hanging Garden Grow Kit
Another wonderful gift for a garden-loving mom is a grow kit that will allow her to enjoy a mini, indoor-hanging garden. The kit can have a hanging terrarium, decorative rocks and more for a fancy little hanging garden indoors.
11. French Press
If a morning cup of coffee is something that your mom cannot miss, a beautiful French press machine can lift her mood. It's petite, doesn't take up a lot of space, and makes a mean cup of coffee.
12. Vases and Aromatic Candles
Do you see your mom always trying to decorate the interiors of your home? Or is collecting aromatic candles or vases her hobby? Then these are just right. You can choose from a variety of these and choose the one that your mom would love.
13. Bed Wedge Reading Pillow
Nothing can beat the comfort of being able to lie down on the bed and read a good book. This pillow is designed for readers and nests between the headboard and the mattress to give your mom a comfortable position to read in.
14. Custom Coasters
Is she a stickler for table etiquettes? A set of customised coasters to keep her guests from leaving a mark on her favourite table-top can be a wonderful gift for her. You can have the coaster engraved with messages or get ones with pictures that she would enjoy.
15. Framed Family Tree
A family tree with customised branches and names, all framed into a pretty picture is sure to be a tearjerker mother's day gifts from kids. You could even have a few quotes or messages added to it.
16. Customised Apron
Is baking or cooking something that your mother enjoys doing? An apron with the 'World's best Mom' written on it can be something that she would love. You can also pick some lovely designs of aprons if your mom would like those better.
17. Bonsai Plant
A bonsai plant is perfect for mom's who would love to keep an indoor or balcony garden. They are low maintenance and look lovely in their little pots. Gift one to your mother this Mother's Day to put a smile on her face.
18. Cookbook
Proud of how your mom always whips up new recipes for you? Give her the chance to add more recipes to her list with cookbook gift. She may love it enough to try something out right then.
19. Wall Garden
All moms will love a small piece of natural beauty on their patio walls. Gift your mom a beautiful wall garden, and she can sit outside with a cup of coffee to admire it.
20. Bath Bombs
What's better for a mom than a day where she has to do the bare minimum and just relax? Make this happen with a set of natural handmade bath bombs. Let her have her day of pure relaxation.
Top 10 Homemade (DIY) Mothers Day Gifts
While gifting something readymade to your mother will be a great way to start her day, if you would like to make her feel even more special, you can put a personal touch to it.  Here are some mother's day gifts that you could make for your mother:
1. Painted Bead Bracelets
Make a beautiful and personalised bracelet for your mom that she can be proud to wear. It's simple and can be done in collaboration with your siblings if they're up for it. If you're an only child, you can do all of it yourself.
What you will need 
Wooden beads
Ribbon
Paint
How to make 
Pick up some wooden beads and paint them or decorate them as you would like to. You can add your personal touch to it. If you have siblings, each bead could represent a sibling, and it can be personalised as per their preferences
Once you're done painting, let the beads dry
Now pass a ribbon through the holes of the beads to make a bracelet. Tie the ribbon in a knot on both ends of the beads to keep them from slipping out
Write a small note along with it and gift your creation to your mom
2. Heart on Canvas
What's better for a mom than an artistic representation of her children's love? This fingerprint art will give her memories for years to come.
What you will need 
How to make 
Get a small canvas. Now dab some paint on your fingers and press the fingers onto the canvas
Now using some paintbrushes carefully turn these prints into beautiful hearts
You can also have all your siblings put their fingerprint on too to make it a combined gift
Once you're done, you can write a message on the board before gifting it to your mom
You can also date it so that years later, she can still remember the moment
3. Spring Rolls
Show your mom that you can turn waste to art with this toilet roll flower art. It's simple and it's something that your mom can keep on her bedside table.
What you will need 
Empty toilet paper rolls
Paint
Stapler
Glue
How to make
Take an empty toilet paper roll and fold it right in the middle. Repeat this with another three rolls
You will then need to staple the open ends of each roll with the other to make it look like a flower. You may ask help from an adult to do this
You can stick a paper ball at the centre of the flower to give it a finished look
Now fold another roll in half and insert a skewer through its centre to make it look like the stalk and leaves
Stick the other end of the skewer to one of the rolls on the flower to finish it
4. Mini Succulent Garden
Creating a mini version of your mom's favourite garden succulents for her tabletop can go very well as a mother's day gift.
What you need 
Small pots. You can use recycled pots or teacups or just about anything that will hold a few pebbles and soil
Small pebbles
Soil
Cuttings of various succulents
Popsicle stick
Craft glue
A small piece of a chart paper
How to make 
You can pick out small clippings of succulents like agave, cactus, aloe, etc from your mother's own garden or elsewhere
You will need to cut these clippings carefully and allow them to sit out of direct sunlight for two or three days until they develop a callous. You may need to get some help from an adult for this
Pick up some pebbles from the garden and add them to the base of the pot that you are using. You can even decorate and paint the pot for added charm
After this, cover the pebbles with some soil
Now, dig tiny wells in the soil and neatly place the succulents
Cut a popsicle stick in half
Make a small heart out of the chart paper and write a message like 'Love you, mom'
Stick this to the end of the popsicle stick, before sticking the stick into the soil
5. Clay Pots
Get your hands dirty for this present. Using some air dry clay, you can make wonderful pots for your mom that you can decorate as per your wish.
What you will need
Air dry clay
Paint, beads, buttons, etc
How to make 
Take the air dry clay and squeeze it with your hands to loosen it a little
Then make a crab claw with your hands and stick only the thumbs in the middle of the clay
Using your fingers, start pinching the edges of the clay in order to give it the shape of a pot
You can get creative and create different shapes as you would like
Once you're happy with the shape, you can allow it to dry
You may need to let it dry for a day before you begin to paint
You can now stick beads or paint over it to make it look all the more beautiful
6. Personalised Candles
Add a custom design on a beautiful candle and gifting it to your mom can also be a great option for mother's day. This is simple and doesn't take that long either.
What you will need
Thick pillar candles
Toothpick
Paper towels
Paint
How to make 
Etch a design or a message on the candle with a toothpick. You can do this yourself or get help from an adult
Brush off any excess wax on the candle
Paint on the design with a paintbrush and using a paper towel wipe the paint on the surface off
You can use a damp cloth to remove residues from the design as well
7. Handprinted Tote
Make a personalized tote bag for your mom to carry things around as your perfect mother's day gift. It's as simple as getting one from the store and decorating it.
What you will need 
How to make 
Get a simple tote bag. It's better if it's in plain colours, like white or beige
Insert a cardboard or a plastic inside the tote to prevent the colours from seeping to the other side
Apply paint on your hands and make handprint designs on the tote
You can make five handprints in a circle to look like petals of a flower and use paint to complete the stalk and the leaves
Once you're done with the design, let it dry and gift it to your mom
8. A Box of Love
What do you give a mom that has everything or desires nothing? Love! You give her love wrapped in a beautiful little box that will always remind her of you.
What you will need 
A simple old box. Any square box or jewellery box will do
Ribbons
Paint
Decorative beads, gems, etc
How to make
Paint the box to make it look brighter and prettier
Now you can add any decorative embellishments you want on the box and let it dry
Wrap a ribbon around the box and tie it into a nice knot
Gift this to your mom with a poem and remind her that whenever she needs some love, all she has to do is clutch this box close to her heart
9. A Jar Full of Memories
Do you remember a time that you spent together as a family that you wish you could revisit? Does your mom often talk about it too? This jar of memories idea is a perfect way to help her keep those memories within reach.
What you will need
Photos, items or anything that links to the moment or vacation in question
A Jar
Ribbons and cards with messages
How to make
Collect everything that you can remember from that moment that would rekindle the memory. It could be pictures, a keepsake you picked up, etc.
Now arrange them in a jar. You can also add some ribbons around the jar or use tiny placards that carry messages for your mom in the jar
This is a perfect gift for the tabletop for your mom and the one into which you would've put a lot of thought into
10. Minibook – 'Ten things I love about You'
Reminding your mom that she is special is a perfect way to lift her spirits up on mother's day. This mini-book is a simple gift that requires a lot of thought into and can get the whole family to be a part of it.
What you will need
Cards
A ring or a ribbon to tie the cards together
Pens or colour pencils
Magazine clippings or any print that reminds you of mom
How to make
Look for images and writings that remind you of your mom to make the mini book colourful
On each card write why you love your mom. It can be because she gives the best hugs or makes the best cookies. You can even draw little images next to them
Once you've got all the ten cards in place, you will need to make a hole on the left end of each card to allow a ribbon or a ring to pass through
Once the holes are done, you can tie all the cards together and make a mini-book out of it
Gift this to your mom with a rose or a bouquet, and she will be the happiest
These mother's day gift ideas for kids are just suggestions that you could use to create your own version and make a special and customised gift that she would love without a doubt.  Making her these little gifts and giving her little things that she can use will add to this experience and give her wonderful memories to cherish for life.