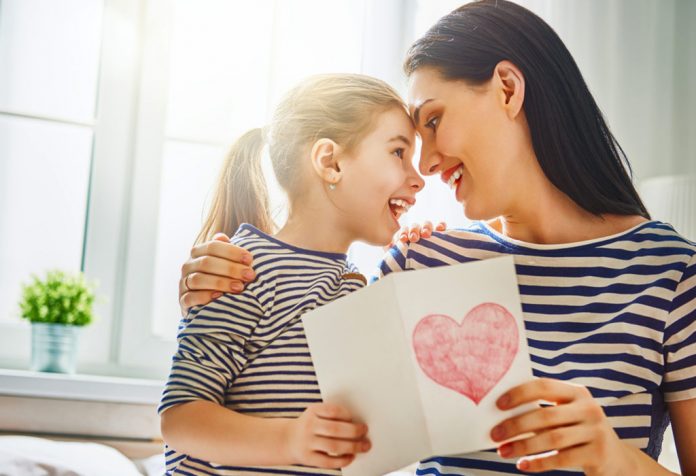 Mother's Day is a holiday dedicated to motherhood and is celebrated in different ways across the world. Mother's Day 2018 will be observed on 13th May (Sunday). On this special day, people send cards, gifts and letters to their mothers to convey gratitude. The best way to make your mother feel special on this day is to pour your heart out and express how much she means to you and how much you love her. It is aptly said, "There is nothing like a Handmade gift from a Loved One". So, read on to find some amazing Homemade Card and Craft Ideas.
10 Homemade (DIY) Mother's Day Card Ideas
Cards are an amazing way to express feelings. One can think of many mother's day greeting card ideas, but the difficult part is to choose one which both mommy and the children are sure to like.
Here are 10 ideas on how to make handmade mother's day cards:
1. I Love You Card
Things you will require to make this
White cardstock paper, Colourful envelope and aTwo-toned scrapbook paper
Steps to make
Trace your palm on the coloured paper and cut it out. Stick down the middle and ring finger.
Write 'I LOVE YOU' on the palm and paste it to the front of the folded paper
Now you can write a heartful message on the card
2. Tulip in a Heart Card
Things you will require to make this 
Construction paper (for the heart), Papers of different colours(for flowers), Green marker, Glue and Scissors
Steps to make
Take a construction paper and trace a big heart on it. Cut it out
Trace a heart (smaller than the previous one) and stick it inside
Draw the leaves and stem and cut them
Draw the stem at the middle on the bottom of the heart
Then, stick the leaves and fold the heart in half
Trace the tulip on paper and cut it out. Trace it 4-5 times
Fold all the flowers in half and stick the halves on top of one another
After you have glued all of them together, apply gum on the first flower
Press the tulips down to the card and Apply gum on the latter half
Fold the card so that the glue can set
3. "I Love You Because" Card
Things you will require to make this
Different coloured strips of paper, Stapler and a Marker
Steps to make
Cut 4-5 strips of coloured paper
Place the papers on one another such that a small portion of each paper is visible from the front
Fold the complete stack into half and staple all the papers from below to keep the stack together
Now use each flap of paper to write one reason why you love your mother. Use your creativity in this step. In the inner part of the flap, you can draw drawings or paste photographs of your family members to make it more special
4. Handprint Art Flowers
Things you will require to make this
Non-toxic washable paints, Green paint & paintbrush, White paper (2x), Scissors, Glue and ribbon
Steps to make
Dip your palms in your favourite non-toxic paint and press down the hand on white paper to make the handprint
Make multiple handprints of multiple colours and let the paint dry
After drying, cut the handprints and glue them on a sheet of paper or canvas
Use green paint (or marker) to draw the stems of the flower and pen down your Mother's Day message
5. Photo Flowers
Things you will require to make this
Light Card, Glue stick, Pictures of you and your Mom, Scissors, Tape and Drinking straws
Steps to make
Take some pictures of you and your mom. The pictures should not be a family picture since the flower won't have enough space for big pictures
Cut the pictures into small circles
Take some coloured paper and cut out simple shapes of flowers using scissors and paste the pictures on the centre of the flower
Cut the straw to the size you want the flower to be, and stick it on the other side of the flower
Your photo flower is ready! You can also make a photo flower bouquet by making multiple flowers with all the family members
6. "You are one in a Minion" Card
Things you will require to make this
Bottle cap, Yellow and Blue paint, Marker, Paper and Glue
Steps to make
Draw a funny Minion body on a piece of paper using yellow paint
Paste a white circular piece of paper inside the bottle cap to make the Minion's goggles
Then make some yellow coloured arms. Make some hair, a smiling mouth, hands, feet, and goggle strap with a black marker. Also, make the clothes of the minion with blue paint
Write "You are one in a Minion" and your lovely message on the paper
7. Buttons Card
Things you will require to make this
Buttons of different sizes, Patterned papers, coloured paper, Glue stick, card and Scissors
Steps to make
Take a patterned paper and cut it into a square shape
Stick the square-shaped patterned paper on a card
Then, stick a coloured piece of paper to write your Mother's Day message
Stick the buttons on the coloured card for decoration
8. "You are my Sunshine" Card
Things you will require to make this
Pasta, Yellow Paint, Markers, and a card
Steps to make
Take a few pieces of pasta and paint them all around with bright yellow colour and let it dry
Make a bright yellow circle at the centre of the card for the sun
After the pasta is dry, paste it onto the card around the sun in a circular manner
Write your Mother's Day message with a tagline "You are my Sunshine"
9. "Picasso's Hands" Card
Things you will require to make this
Non-toxic washable paints, Crayons or watercolours and a Card
Steps to make
Draw or paint a bunch of beautiful flowers on a card. Make sure that the stems of the flowers are not too far away
Then, dip your hand in Non-toxic washable paint and press it onto the card. The impression of the hand should lie on the stems of the flowers so that it looks like as if the hand is holding the flower
Write your lovely Mother's Day message inside the card
Your "Picasso's Hands" Card is ready
You can use this idea for many objects other than flowers such as Heart, Chocolate, Giftbox, etc.
10. "I Love Mom" cut out with Flowers Card
Things you will require to make this
Glue, Scissors, Crayons, Card, Different shades of coloured paper and a red coloured paper
Steps to make
Cut out the alphabets I, M, O, M using different coloured sheets of paper.
Also, cut out a big heart from the red coloured paper.
Then cut out many varieties of simple flower patterns from the papers.
Fill in the alphabets with crayons and stick the flowers on top.
Now stick all of them on the card. It should read as I "heart" MOM.
10 Best Mother's Day Craft Ideas for Kids
Handcrafted gifts are always more special than readymade ones. Here are 10 ideas for homemade mothers day crafts for children:
1. Paper Heart Notebook
Things you will require to make this
Pencil, Papers, Construction paper, Scissors, Printer, Glue, Drawing materials (pencils, crayons, markers) and Ribbon
Steps to make
Trace a heart stencil on a construction paper and using scissors, cut it out
Fold a paper twice into quarters
Put the heart stencil on the edge and make another heart by tracing it
Cut the heart using scissors along the upper half of the heart
Unfold and write a lovely message for your mom
Fold it in half from the centre. Repeat the same with 4-5 sheets
Unfold a drawing and then push the "side hearts"
Repeat this step with all the other papers
Apply gum on one side of the heart and stick the other heart on the first one.
Do this for all your hearts on top of each other
Use the heart stencil to cut out two hearts on the red construction paper
Apply gum on the white heart and put a ribbon across the centre of the heart
Place the red heart on top. Turn to the other side, apply glue, ribbon and another heart
Cut the ribbon into proper size and tie it
Your "Paper Heart Notebook" is ready
2. Butterfly Family Tree
Things you will require to make this
Coloured paper, Butterfly punch, Matte board, craft glue or rubber cement
Steps to make
Design a background on a sheet, allocating different colours to different generations
Then, make two butterflies each for every member of the family and write their name with a pen on the opening. Fold the wing of butterfly such that the body lies flat
Now glue each pair of cut-out together
Then, stick the butterflies in the matte board
Your butterfly family tree will be ready
3. Cardboard Photo Frame
Things you will require to make this
Cardboard, Photographs, Pens, Paint or glitter, A Ruler, Scissors, Yarn, Glue Gun
Steps to make
Take cardboard and outline the picture on it. Draw another outline further out. Carefully cut out the middle portion through which the picture will be visible
The frame is now ready. You can decorate the frame by painting or wrapping yarn around it. You can also cover the corners with leaves to make it more beautiful
Don't forget to secure the yarn with the help of a glue gun
Your cardboard photo frame is ready. Now you can stick a photo which you want to gift your mom
4. Floral Napkin Rings
Things you will require to make this 
Paper rolls, a piece of fabric, Paint, Needle, Embroidery floss, Paintbrush, Craft tray, Scissors, Beads, Paper, Smock, Pencil, eraser and a Fabric Glue
Steps to make
Cut an empty toilet paper and roll in half. Paint the paper roll in any colour of your choice. If you are painting the paper rolls with two layers of paint, then don't forget to leave it to dry before applying the second layer of paint. You can also decorate the rolls by covering it with fabric, yarn, or poster
Cut the heart out from the felt and cut the bottom portion of it. You will need to cut out several of these petals. (around 6-8 petals per flower)
Now you can whipstitch all the petals to show details
Cut out two circles for the base, one small and one big. Glue the petals on the bigger circle and paste the smaller one in the centre. Allow it to dry over-night
You can sew a few small beads or one large bead to decorate it further
Glue the flowers on the designed paper roll with the help of glue gun. Put the Napkin in it, and your Floral Napkin Ring is ready
5. Love Necklace
Things you will require to make this
Craft wire, Scissors, Ruler, Embroidery thread, Clear nail polish, Jump rings and jewellery clasp, Chain, Round nosed jewellery pliers, Charm or tassel
Steps to make
Cut a piece of wire (around 10-inch in length). Make a loop at one end with the help of a jewellery flier
Keep the coiled length of yarn intact. Now tie the yarn to the loop securely. You should tie about three to four times for additional security
Wrap the yarn securely around the wire. This process will be easier if you can hold the entire coiled length of yarn in one hand while you wrap. Continue until you have wrapped around eight to nine inches of the wire. Don't forget to tie a knot to the end. Cut the extra thread. You can apply nail varnish to make sure the knot is secure. Repeat this step for the other end as well and let it dry
Cut the extra wire leaving half an inch and make a loop with the help of the pliers
Then, we can now start making the letters. Make "L" on one end. You will have to wrap the wire around pliers to do this
Then, to make an "O", begin wrapping the wire around the cap of the nail polish
To make "V", bend the wire
To make "E", wrap the wire over and around the plier. Adjust accordingly
The final step is to attach the chain on both ends
Your LOVE necklace is ready!
Similarly, you can also make necklaces with other words also
6. Mother's Day Tray
Things you will require to make this
Blackboard Paint, an unprimed roll of canvas, Foam paint roller with tray, PVA glue, Round paintbrush, Floral stencil, 500gm boxboard, Polyester Fibre Filling, Tim and Tess Chalk, A breakfast tray, Aqua acrylic paint, and a sponge brush
Steps to make
Apply two layers of black-board paint towards on the inner part of the tray with the help of a roller. Colour the other exposed part of the tray with some aqua paint
Now, place your tray on a big piece of canvas. Leaving an excess of about 15 cm around each edge, cut out the rest
You can make designs such as floral patterns using a sponge to tap paint on the stencil. Allow it to dry for some time
Measure the tray's size and cut a boxboard to match it and protect with a coat of polyester filling
Wrap up the canvas securely. Put PVA glue to the side of the cardboard to cover the centre and the edges
Put the tray on the canvas and allow it to dry overnight
Use this tray to serve breakfast to your mom on the Mother's Day morning and surprise her
7. Family Portrait
Things you will require to make this
Inexpensive picture frame, crayons in bright& light colours, white card stock or poster board, paint brush, black tempera paint or poster paint and toothpicks
Steps to make
Cut your poster board such that it fits your picture frame
Colour the poster board completely with the brightest and boldest crayons
Next, paint it with one layer of Tempura paint (black colour)
When the poster board is completely covered with paint, allow it to dry
Now you can create a scratch art on the poster board with a pencil or toothpick
Draw a line diagram of your family and your Scratch Art Family portrait will be ready
8. Paper Mache Platter
Things you will require to make this
Paper Mache Paste, Acrylic Craft Paints, Paper Bag, Paint brushes, Acrylic Craft Varnish, Plastic cling-wrap and a platter of our own to use as a base
Steps to make
Flip the platter upside down and cover the outer side of the bowl with a coat of plastic wrap
Cut the paper-bag into strips. Then dip each strip into the Paper Mache Paste and paste it on the platter. Allow it to dry for one or two days
Repeat the step and paste a second coat of paper strips after the first coat is dry
Allow the second layer of paper strips to dry for another one or two days
Once the platter is dry, it is ready to be painted
You can use your own creativity to design the platter according to your choice. Some examples that you can consider are: Balloons, Floral patterns, etc
9. Custom Art Fridge Magnets
Things you will require to make this
Magnet, painting canvas, watercolour, paint brushes and matte craft varnish
Steps to make
Apply the first coat of paint on a small piece of painting canvas and leave it to dry
After the first coat of paint is dry, apply the second and third coat of paint
Don't forget to leave the previous coat of paint to dry before starting applying a new coat
You can use your own creativity to paint the canvas according to your choice of colours and patterns
Take a small sized magnet and stick it to the other side of the canvas
Your Custom Art fridge magnets are ready!
10. Flower Drop Ornaments
Things you will require to make this
Plastic & clear ornaments with removable lids, aquarium stones, colourful pony beads, fishing line and artificial flowers
Steps to make
Open the top of your transparent ornament. Be careful if you are doing this with a knife or a sharp object
Drop a few beads or coloured stones inside the ornament
Then, insert your flowers through the hole and move the ornament to adjust it. Keep adjusting the placement of the components until you are happy
After you are satisfied, put the lid of the ornament back on
Hang the ornament using a fishing line. You can hang these ornaments on a window, on a tree or even a deck
They say that "There is no bond stronger than the bond that exists between a mother and her child". Mothers play a very important role in the upbringing of their children. So, make your mother feel extra special on this Mother's Day with some Homemade Card and Crafts.