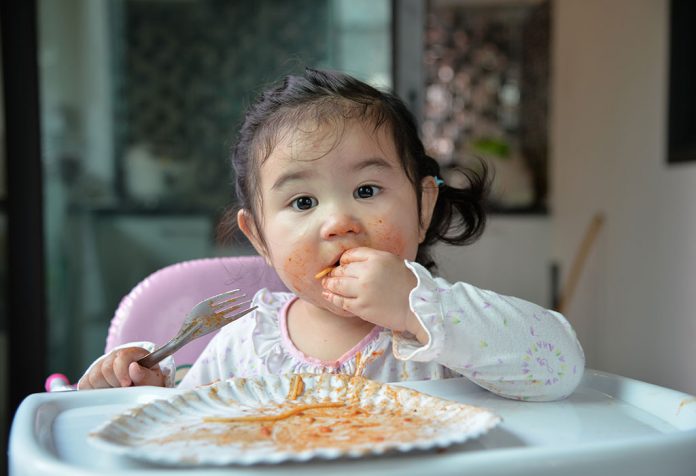 As kids start growing up, parents are constantly faced with a dilemma of figuring out what to feed them. He might have begun eating solid food items but the challenge of maintaining proper nutrition with a variety of food items that can appeal to him can seem like a circus act.
Nutrient Requirements for 16-months-old Child
Be it regarding breakfast ideas or any other meals, it is necessary that your 16-month-old toddler gets the right nutrients in the proportion that he ought to have.
Fruits: Fruits not only help in providing fibre but some very essential vitamins that can be absorbed by the body easily. A couple servings of fruits such as bananas, kiwis, mangoes, and many others are recommended.
Whole grains: These still remain an essential ingredient in the meal options that constitute a child's healthy diet plan. Even a simple bagel or cereal crackers can be effective in providing enough grain proportion for a child.
Fats: Apart from being energy reserves to tap into, fats are what make your child healthier and larger in the coming months. Using olive oil in meal preparations or including coconuts and avocados provide good quantities of fat.
Vegetables: With solid foods being edible for your kid, it is necessary to expand the type of vegetables he consumes. Go with green leafy ones as well as broccoli and cauliflowers after steaming them. Sauces are a great accompaniment as well.
Meat and eggs: These are cheap, easy, and the best sources of protein for your little one. A simple egg, few pieces of shredded meat, or tiny chunks of seafood can be a great addition to your kid's diet.
Iron: Apart from including iron-rich food items, it is also necessary to pair them with vitamin C rich foods, since it allows the iron to be absorbed within the body. Any leafy vegetables, red meats, and citrus fruits are a great combination to be included together.
Dairy: The weaning of the child from the breast makes it necessary to include fortified milk products in his diet to keep his nutrition intact. Different cheeses, yoghurt and full-cream milk are essential in that regard.
Nuts and legumes: The chewing ability of kids is put to great use by the inclusion of such items in the daily meals. Right from flaxseeds to peas or even peanut butter, a small serving of these on a regular basis is quite beneficial in the long run.
How Much Food Does Toddler Need At 16 Months
Toddlers experience a reduction in the pace of their growth when they turn 16 months old. While their nutritional requirements are pretty much the same, their calorie intake hovers roughly between 1kcal to 1.5kcal at the most.
Best Foods For Sixteen-month-old Baby
When putting together lunch ideas for your 16-month-old baby, there are certain essential food items that are considered the best choices to be included in his diet plan.
1. Porridge
Being a complete package of multiple nutrients such as proteins, carbohydrates and fibre, porridge is not only healthy but also quite filling for the little one, early on in the day.
2. Seafood
Yes, certain fish products do contain mercury and arsenic, making them harmful for the little one. However, fishes such as herring, mackerel and salmon are quite safe and contain enough omega-3 acids that benefit the brain development of the child.
3. Eggs
A simple food item that can provide a huge boost of energy is an egg. Prepare it in whichever form that suits your child, the healthiness in their constitution provides great taste and ready-to-use energy, which should ideally become a lifelong habit. (Avoid the semi-cooked recipes though – sunny side up, soft boiled eggs, and poached eggs.)
4. Beans
Beans are great for either breakfast or even evening meals since they are pretty light on the digestive system and provide enough vitamins, fibre, and iron to fulfil the child's daily requirement. Preparing soups with legumes are also a great way to include them in the diet.
5. Vegetables
While eating steamed and boiled veggies is a great way to consume them, you can even make use of vegetable stock to provide him with the necessary immunity boost.
6. Poultry
Not only is chicken meat rich in protein, but it is also a great source of iron, which is necessary for kids at this age. Simple chicken recipes are not quite difficult to prepare.
7. Fruits
If your little one hasn't started gorging on fruits yet, it is high time that he begins. Vitamins and minerals are not the only reason for it. The palate that different fruits provide, along with their smells and textures, help in evolving the taste buds of your child.
8. Yoghurt
Amongst many dairy products, yoghurt is recommended by dieticians and doctors alike. These can be paired with different food items to elevate their flavour as well as provide the benefit of probiotics entering his gut and enriching it to function properly.
9. Whole Milk
If you are still breastfeeding your child, then you are all set. But if not, start giving him full cream milk via a cup instead of a bottle. Drinking milk is extremely essential in keeping his growth on track, and keep his nutrient levels optimal.
10. Whole Grains
You don't need to resort to the typical grain preparations when giving to your child. These can be acquired from a variety of items such as bread, muffins, sandwiches and so on. Make sure different options are included in his meal pan regularly.
16 Month Old Baby Food Chart/Meal Plan
To help you get started by putting together a 16-month-old baby food schedule for your own kid, we have provided a sample that can be used as it is or even tweaked to better suit your lifestyle.
| | | | | | |
| --- | --- | --- | --- | --- | --- |
| Day | Breakfast | Snack | Lunch | Snack | Dinner |
| Monday | Banana pancake | Oats biscuits | Pasta | Glass of milk | Cottage Cheese Sandwich |
| Tuesday | Oatmeal porridge | Blueberry muffin | Chicken with rice and veggies | Fruits and Yoghurt | Veggie cheese quiche |
| Wednesday | French toast | Smoothie | Spinach rice | Glass of milk | Peanut butter sandwich |
| Thursday | Cereal mixed with fresh fruits | Apple chunks | Cooked meat with rice and veggies | Oats biscuits | Oats pancakes |
| Friday | Wheat pancakes | Soup | Pasta with Pesto | Beetroot cutlets | Scrambled eggs on toast |
| Saturday | Cheddar cheese sandwich | Banana milk shake | Carrot rice | Glass of milk | Apple cinnamon waffle |
| Sunday | Cheese Omelette | Muffins | Steamed fish with rice | Hummus | Vegetable noodles |
Food Recipes For 16 Months Old Baby
Whether they are proper meals or even evening snacks for 16-month-old kid, these recipes will be quite effective in rustling up something quickly and being nutritive for your little one, too.
1. Beetroot Rolls
A wonderful evening calls for some great snacks. Surprise your kids with these beetroot rolls that are downright delicious.
Ingredients
Oil
Bread
Semolina
Lemon juice
Salt
Mixed spices
Mustard seeds
Cumin seeds
Onion
Boiled potatoes
How To Prepare
Take a pan and add oil to it, along with onion, cumin and mustard seeds to sauté them.
In a bowl, add carrot, beetroot, and potatoes along with seasonings and mix them well. Follow up with the onions.
Add moist bread slices to the mix and roll them up in a plate of semolina to cover them fully.
Fry these rolls deep in oil and serve with ketchup.
2. Pasta with Basil Pesto
Pasta is a kids favourite and this healthy recipe is bound to be a success!
Ingredients
Penne Pasta
Basil Pesto Sauce
Parmesan Cheese
Onions
Oil
Water
Salt and pepper
How to prepare
Cook the pasta in a large pot of boiling water until done and drain.

Meanwhile, heat the oil in a frying pan over medium low heat. Add the basil pesto, onion, and salt and pepper. Cook about five minutes, or until onions are soft.

In a large bowl, mix pesto mixture into the pasta and stir in the grated cheese.
3. Banana Pancakes:
All kids love bananas and who doesn't love pancakes! This one will be a hit every time you serve it!
Ingredients:
1/2 cup (60g) all-purpose flour

1 1/2 teaspoons (6g) granulated sugar

1 teaspoon baking powder

1/8 teaspoon salt

1 medium-to-large very ripe banana

1 large egg

2-3 tablespoons milk 

1 tablespoon vegetable oil 

or

melted butter

1/2 teaspoon vanilla
How to prepare
In a small bowl, whisk together flour, sugar, baking powder, and salt.

In a medium bowl, use a fork or potato masher to mash peeled banana very well. Add egg, 2 tablespoons of the milk, oil, and vanilla, and mix until well-combined. 

Add flour mixture and use a spoon to stir until just combined. If batter seems too thick, add up to 1tablespoon more milk.

Heat a griddle to 350°F or a skillet over medium heat (no higher). Once cooking surface is hot, lightly grease with butter or cooking spray and add pancake batter using a 1/3 cup. Cook on first side until the tops of the pancakes begin to bubble. Flip and cook until cooked through.
4.
Corn Flour Crusted Baked Cod Fish:
This is a great way to get your child used to eating a very healthy source of protein. Kids will love it!
Ingredients
1 tablespoon olive oil

1 cup crushed cornflakes

1 tablespoon Dijon mustard

1 tablespoon melted butter

1 egg

Salt and pepper to taste
How to prepare
Preheat oven to 400 degrees F.

Drizzle olive oil over a baking sheet. Combine the cornflakes, mustard, melted butter, and egg and mix it together thoroughly.

Dip each cod filet in the liquid, shaking off the excess, and then into the cornflakes, turning to ensure the whole filet is coated. Shake off any extra flakes and place on the prepared baking sheet.

Bake 15 to 20 minutes, until the fish is opaque throughout and flakes easily with a fork. The baking time will depend on how thick the fillets are. Check at 15 minutes. If not done, continue baking, checking every 2 minutes until done.
Feeding Tips
Apart from the usual dinner ideas, here are a few tips that can make the entire food experience better for your kids.
Try out old items that your kids have rejected in a different way
Present food items creatively to entice kids into eating them
Choose a variety of colourful foods to make the palate visually appealing
Put together tasty foods with the ones your kid dislikes
Offer small portions instead of large ones that would go waste
Make sure your kid drinks water at the end of the meal
There are loads of Indian food recipes that can be great meal options for your little kid to gorge on. Just make sure they aren't too spicy or strong on any particular flavour, and make sure to offer desserts in controlled portions.