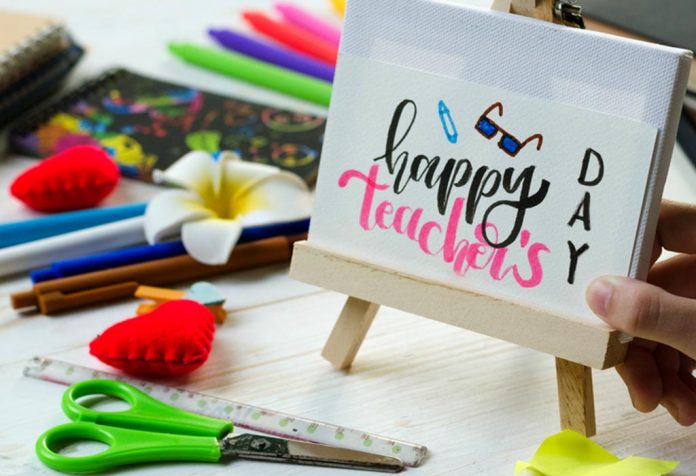 It's Teacher's day at school, and this is the time when kids want to do everything possible to make their teachers happy. Gifts, cards, flowers and many more ideas are popping into your head right now, but you wonder what that one particular thing is that the teacher will love and keep.
You could just go to a gift shop and buy something extraordinary for the teacher. But there is nothing as special as a custom card that is crafted by your child. This is something that the teacher will genuinely treasure, appreciate, and will always keep.
So encourage your child to make a customised card which is sure to move her teacher to tears.
When your child is making the card, please be by her side as some of the ideas include things like glue which could turn out to be messy. Also, some activities require using a needle or a scissor. These activities also need to be supervised by an older person for safety concerns.
DIY Teacher's Day Greetings Cards for Children
There are many creative ways in which your little child can make a special card for that special teacher who plays a massive role in her life. Here are some of them.
These Teacher's Day greeting cards for kids can be made by one child, or it can be a group effort as well.
1. Paint With Nature
This card takes a lot of time and precision. Hence, be there for the child as she makes the card. You are also sure to surprise the teacher by the effort your little one has put in.
What You Will Require 
Flowers/ ladies finger
Paint
Palette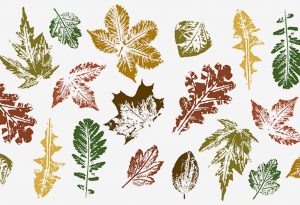 How to Make It 
Find natural materials like leaves or flowers. Pick the ones that are big and can be painted on.
Paint on them and use them as stamps on a chart paper, folded like a card.
You can even use vegetables like ladies' fingers cut out into pieces, they make beautiful shapes that look very attractive.
Allow the card to dry.
Ask your child to write a short personal note for the teacher on the inside.
2. Needle And Thread
This is an activity that will need effort and a lot of patience. One thing is for sure; the teacher is going to be taken aback by the effort put in by your little one.
What You Will Require 
Needle
Embroidery Floss
Paint
Fabric
Sketch Pen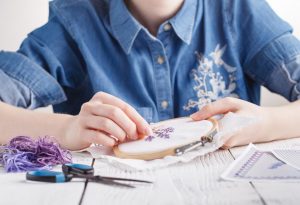 How to Make It 
Take a piece of fabric, preferably embroidery fabric like Aida cloth, as it will be easier for the child to work with.
You can sew a small pattern, or even write a short (Cross stitch patterns are quite easy for children to do).
Stick the fabric on the piece of paper that is folded into a chart paper.
Ask the child to write a small note inside, expressing her gratitude towards the teacher. This is an effort that her teacher will cherish for a lifetime.
3. Pressed Flower Cards
A nature-based card is warm and personalised, and will surely sway the teacher.
What You Will Require 
Flowers
Chart paper
Sketch Pens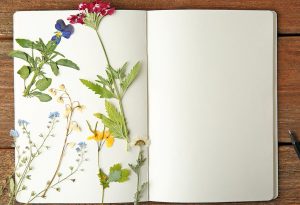 How to Make It 
This is quite easy but also very unique.
Collect pretty flowers from your backyard, or anywhere you find them.
You will need to press flowers by keeping them in a book for a few days or months.
The longer you keep them in the book, the better it is.
To start, fold the paper like a card.
Stick the pressed flowers on the card.
You can use a little glue to stick it onto the paper.
You can add a simple note on the inside of the card.
To make the flowers more relevant, your child can write something about how unique the teacher is, like the flower.
This is something that needs to be done with a lot of care as the flowers can tear, and the child might get a little messy with the glue.
4. Cookie Cutter Cards
Sometimes all you need to be creative is the things that lie around you. This is yet another creative project that is sure to win the teacher's heart.
What You Will Require 
Cookie cutters of different shapes
Paint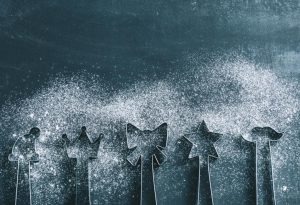 How to Make It 
Take paints of different vibrant colours on a disposable plate or palette.
Take the chart paper and fold it like a card.
Dip the cookie cutter in the paint smoothly so that it doesn't drip too much.
Now press the cookie cutter on the chart paper so that there are pretty shapes on the card.
Allow the card to dry for a while.
Encourage the child to write a personal note to thank her teacher for the role she plays in her life.
5. 3D Cards
3D cards are creative and fun too. The teacher will be happy to see how far your child has gone to make her happy. This project will require you to be around the child and help her as there is a lot of cutting involved.
What You Will Require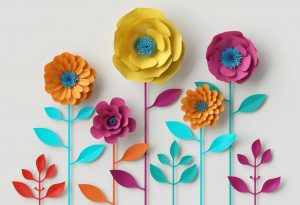 How to Make It 
3D cards are so much fun to make, and your kids are going to love making them.
You can ask your child to make paper cut-outs of pretty little things on coloured paper. To personalise it, cut-outs can be based on the teacher's likes, or even the subject she is teaching like Maths or History.
The cut-outs need to be stuck on one end of a small strip of chart paper
Next, stick the other end of the card.
This can be inside the card so that when the teacher opens the card, she is in for a pleasant surprise!
You can make various 3D items like flowers or ribbons from one side to the other side of the card etc.
This can be simple with very fewer words as well
Ask your child to personalise it as the teacher will have memories to cherish every time she opens her card. The teacher will also be impressed by the effort that went into it.
6. Photo Cards
Nothing replaces the memories captured in a photograph. This card will be so unique and special for both the teacher and your little child.
What You Will Require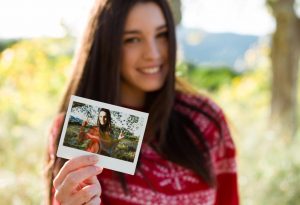 How to Make It 
This is quite simple to make, and it is a very special card idea.
All you need to do is get a good photograph, preferably one with your child and the teacher.
Fold the paper like a card.
Stick the picture onto the folded paper, right in the centre.
Ask your child to decorate the card with paint and stickers.
Tell your child to write a thank-you note with a few happy memories which will make the teacher giggle.
Photographs are always special and carry a lot of memories.
7. Lifesize card
This is something that the teacher is going to love. Don't be surprised if she sheds a tear.
What You Will Require 
Chart paper
Sketch pens or markers
Paint
Palette
Glue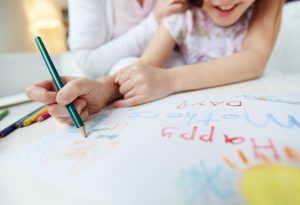 How to Make It 
Ask a group of children to put together two chart papers using tape or glue.
It has to be stuck together in such a way that it opens into a card.
Now they can be as creative as they want, by painting on it and sticking photographs.
Children can take a layer of paint on their thumb and press it on one side of the card.
Ask each child to write a phrase or sentence below the thumbprints, thanking their teacher for all they have done for them.
8. Hand-print Cards
Handprints are really personal and warm. Although it is quite common, it is something that teachers love, because it reminds them of how unique every child is, just like their handprint.
What You Will Require 
Chart paper
Sketch pens or markers
Paint
Tray
Glue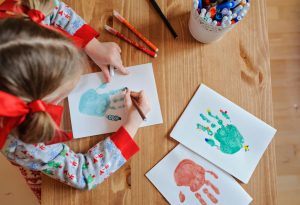 How to Make It 
This is really simple, and your child will love the process of making it.
All you need is a tray/ bowl of paint and a piece of chart paper folded like a card.
You can stick to a single colour of paint, or you can even have multiple colours.
Ask your child to dip their palm in the paint.
Let the paint spread evenly on the palm.
Next, they have to press the paint on one side of the paper.
Beneath the handprint, you can ask your little one to write her name as well.
She can add a special thank-you note on the inside.
This is something that the teacher will treasure for a long time.
9. Felt Cards
This is yet another super creative way to make the teacher smile. Help your child with the material as it needs to be cut out really smoothly.
What You Will Require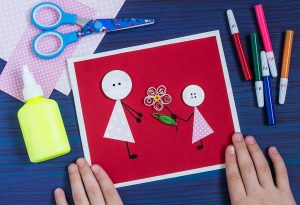 How to Make It 
Felt is such a fine material that you can customise it the way you want.
Cut out the felt in all your child's favourite shapes.
Some shapes to cut out are flowers, hearts, ribbons etc.
Now take the piece of chart paper and fold it like a card.
Stick the shapes that were cut out, onto the card neatly.
Inside the card, ask your child to write a short, sweet thank-you note.
If you are using a lot of felt cutting, make sure that the thank-you note is short and sweet.
10. Zig-Zag Cards
Zig-Zag cards are so unique and also child-like. It can even look like a cute booklet if you add more sides to it. Your child can be creative with this project. You can add as many sides to the card as you'd like, and let your child pour her heart out to the teacher.
What You Will Require 
Paper
Scissor
Scale
Pencil
Sketch pen/ pen
Paint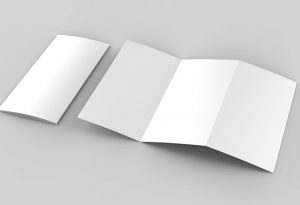 How to Make It 
Zig-zag cards are very creative and definitely unique.
All you have to do is take a strip of paper and divide it into three sections by drawing a thin line.
Fold the paper on these lines alternately to make the zig-zag (z shape). You can add more sides to it as well.
You can now add several elements on each side of the card. For example, you can paint a picture on one side, write a short note on the next side and add a cute photo in the next.
You can even add thumbprints on one of the sides to personalise it.
Receiving Teachers Day cards from a child just feel very special. So make sure to help your child, as she works on her creative project for the person who is moulding her life.
Ask your child what does she want to do for the teacher. You can keep giving her various ideas from what is mentioned above, but let her come up with something herself, as this will make her proud and she will take ownership of what she makes.
While making the DIY card, ask your child if she is grateful for her teacher, and remind her of everything that she has done for her.