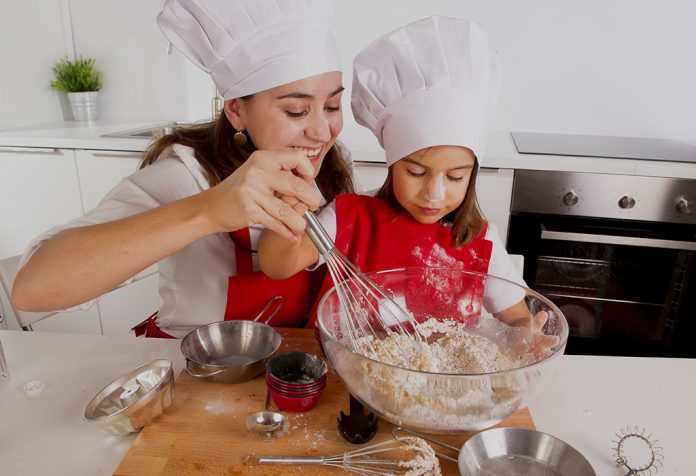 Be it a birthday or celebration of any other event or simply a day when it just feels fine, a cake is an indivisible part of any wonderful moment. Sadly, most of the cakes that we have these days fluctuate between the usual flavours and similar shapes. Some attractive ones in the shop might not be alluring enough, but you might wonder if you could make those at home all by yourself. This can easily be done now with some interesting cake recipes for kids along with numerous delicious cake preparations, which are not only intriguing in their recipes but introduce your children to a world of lip-smacking flavour and absolute happiness, in a homemade package of love.
Simple and Yummy Cake Recipes for Children
Set yourself to get started with a blast by jumping headfirst into this handpicked collection of cake recipes, which is bound to get your child and all his friends excited to no end.
1. A Birthday Cake with Balloons
Going ahead with a simple white cake for your child's birthday is one thing. Decorating it with icing and writing his name is another. But having a nice balloon styled decoration on the top works wonders for everyone.
Ingredients
Cake mix of your favourite flavour that is slightly moist
Water
Vegetable oil
Eggs
Whipped cream of different colours
Traceable cake patterns
Decorating tips
Icing mixtures of a variety of colours
How to Prepare
Prepare the oven by preheating it to a temperature of around 180 degrees.
Take two pans round in shape and about 8 inches in diameter. Grease their bases properly. As an alternative, you can opt to use cooking paper as well. Cut that paper in a shape that would fit the pan and place it at their base. This facilitates removal of the cake from the pan easily.
Use the cake mix and prepare the batter properly following the instructions to the letter. Once the batter is done, pour it into the pans in equal quantities. Place the pans in the oven and bake them for the duration as mentioned on the packaging.
When the cakes are baked, take them out and let them cool down for about 8-10 minutes. Take a knife to the side of the pans, helping the cake unstick and loosen out. If you have used a cooking paper, you can lift out the cake easily. Let it sit on a rack for about an hour to cool down fully.
For the further preparations, take a large plate. Pick one cake from the rack and place it upside down on it. Take white coloured frosting and smear it completely on the surface. On this surface, place the other cake as you normally would, letting the bases gel together. For the upper cake, spread the frosting on all areas, right from the top to all the sides of it. Make sure it is smoothened out and evenly present in all areas.
Let this entire setup stay as it is for another hour so that the frosting dries up fully and firmly affixes on the cake.
Once done, make use of the trace decoration patterns on the surface of the cake. Use a thin decorating tip filled with the icing of your choice to write the name of your child and the wish on top of it. For creating the balloons, use the tracing pattern from the package and place it accordingly on top of the cake. Use different coloured icings to fill the tracings in various areas, creating an array of balloons.
When using crumbs to stick around the cake, start off with a thin layer of frosting initially. Then apply the crumbs and let them seal in together. This can be covered with another layer of frosting if needed.
Once the cake is fully decorated and ready, cover it gently with a container that doesn't touch it and let it return to room temperature.
Decorations
Various icing coloured mixtures, along with frosting and breadcrumbs, combined with tracing patterns for different shapes can be used to turn the canvas of the cake into a beauty.
Servings
Approximately 12 pieces
Preparation Time
Around 45 minutes, with a total cooking time of 3 and a half hours.
2. A Spectacular Orange Cake
While many kids might crinkle their nose at the sight of oranges, they will go nuts over a cake that has the essence of oranges in it that is quite easy to make and quick to be gobbled down, too.
Ingredients
Orange strands
Orange juice
Whole Oranges
Sifted icing sugar
Softened butter without salt
Finely grated orange
Baking powder
Self-raising flour
Eggs
Sugar
How to Prepare
Begin by preparing the oven, preheating it to a temperature of 180 degrees.
Take two 8-inch tins or pans. Coat them with some butter lightly and then place baking paper at the bottom.
Pick a large bowl for mixing. Add baking powder, orange strands, baking powder, flour, eggs, sugar and butter altogether and mix it properly for a couple of minutes until it is all blended well. You can go ahead with an electric blender for this as well.
With the batter ready, pour it equally in both the pans. Use a spoon or a wide spatula to smoothen out the top surface of these pans. Place them in the oven and let them bake for about half an hour. This should be enough for the batter to rise and be golden in colour.
Take the cakes out and push them gently to check if the surface pops back up. Let it cool for a few minutes. Then, by using a small knife or a rounded one, separate the cake from the edges of tin gently. Lift the cakes out and place them on a rack to cool down. Remove any paper still stuck on them.
Place one cake layer upside down on a large plate. Mix butter, icing sugar, grated orange and juice properly. Spread this mixture completely on the base of the cake facing upwards. Now, carefully put the other cake layer on top of it. Cover this layer completely with the remaining mix, on its top as well as by the sides.
Sprinkle a few orange strands above it for added appeal.
Decorations
Orange strands on the top, along with any additional icing if needed.
Servings
About eight pieces
Preparation Time
Around 30 minutes, totalling to an hour
3. The Classic Chocolate Cake
Say the word "chocolate", and you will have an army of kids rushing towards you. Make their faces light up with glee with this beauty of a cake.
Ingredients
Butter
Maple syrup
Dark sugar
Cake decorations
Dark chocolate
Eggs
Milk
Brown sugar
Cocoa
Self-raising flour
How to Prepare
Prepare the oven by preheating it to around 180 degrees.
Pick out a nice cake tin and coat it with butter from the inside lightly.
Take a large bowl and add eggs, milk, butter, brown sugar, self-raising flour as well as cocoa to it. Mix it all with a large spoon or with an electric blender.
Once the batter is homogenous and smooth, pour it properly inside the cake tin and even out the surface with a spoon. Place the tin in the oven and let it bake for about 45 minutes. Check intermittently to see its texture and aroma or by poking a toothpick.
Pull the cake out and let it cool for a few minutes. Separate it from the tin using a knife and place it on a rack to cool fully.
Once done, begin with decorations. Opt for some readymade icing or make some of your own. Take a pan and add sugar, maple syrup and butter to the pan. As it slowly starts melting, follow it up with chopped pieces of chocolate. Mix it all properly to let it melt.
Turn off the flame and let it go from hot to warm. Pour it on the cake, making sure it covers all the sides of the cake completely.
Pick your favourite decorations items, right from chocolate chips to silver balls. Pair it up with some sour fruits if you like.
Decorations
Anything from chocolate chips to tiny nuts to even fruit pieces of varying colours
Servings
About 8-10 pieces
Preparation Time
Around 45 minutes, totalling close to an hour
4. A Colourful Sponge Cake
When making complex designs, having a cake that can be prepared quickly and stays hard works to your favour. This sponge cake fits perfectly in those requirements.
Ingredients
Milk
Eggs
Butter
Brown sugar
Self-raising flour
Coloured icing
How to Prepare
Set up the oven for the preparation by preheating it to a temperature of 150 degrees.
Use a tin that is either round or square in shape. Coat butter on its inside in a thin layer and keep it aside.
Take a large bowl and sieve the self-raising flour in it. Follow it up by adding brown sugar, butter, eggs and milk to the flour. Mix them all properly in a gentle manner. Once mixed, use an electric blender at a fast speed to thicken the batter and blend it fully to be smooth.
Pour this matter in the tin coated earlier until it is filled. Place the tin in the oven, preferably in the centre and let it bake for an hour and a half or so. Keep a check on it to note the progress.
Once done, take it out of the oven, use a knife to remove it from the tin, and let it cool on the rack. When fully cooled, use icings of different colours to make patterns on all sides of the cake. Don't worry since the cake will be quite firm to withstand your decorations.
Decorations
Various coloured icings or fruits of your choice
Servings
About 12 pieces
Preparation Time
Around 15 minutes, with the cake being ready in a couple of hours
5. The Spidery Surprise
Some children like to have a themed celebration, such as horror or spooky items. Bake a cake that resembles spiders and your kids will scream with horror and delight alike.
Ingredients
Chocolate strands
A box of Oreo biscuits
Vanilla flavoured candy coating
Vanilla frosting
Eggs
Oil
Water
White cake mix
How to Prepare
Start as usual by setting up the oven to preheat at a temperature of 180 degrees.
Take a nice big pan and coat it with some butter, or lay down cooking paper on it.
Prepare the batter as per the directions mentioned on the cake mix. Use the eggs, oil and water in the exact quantities as required. Once the batter is ready, pour it in the large pan as gently as possible. Even out the top surface with a spoon and place the cake in the oven to bake it.
Once the cake rises and seems baked, take it out and let it cool for some minutes. Extract it from the pan by using a knife to separate it properly and let it cool fully on a rack for about an hour.
Now, take the frosting and cover the cake completely on all sides. Make use of some fine sugar and drizzle it gently across the cake in a criss-cross fashion to make a web.
Separate the Oreos and place them on the cake with the cream end below. Use chocolate strands to form legs on the side, turning them into spiders.
Decorations
Oreo cookies, some fine sugar, and chocolate strands to make a spider cake.
Servings
About 12 pieces
Preparation Time
About 30 minutes, ready in an hour
6. A Fantastic Castle Cake
What looks difficult when you see the finished product, can turn out to be quite easy to make with the right steps. Gift your child his very own tasty caste to devour happily.
Ingredients
Icing sugar
Lemon juice
Egg whites
Sprinkles
Chocolate chips
Milk
Normal flour
Self-raising flour
Whole eggs
Vanilla essence
Brown sugar
Soft butter
How to Prepare
Prepare the oven by preheating it to a temperature of 180 degrees.
Coat a large pan with butter and line it properly with some baking paper. Similarly, take tiny cupcake moulds and repeat the same with them.
Take a bowl and add sugar and butter to it. Beat it well to make it fluffy, following it up with vanilla essence. Now, add one egg after the other and beat the mixture after each to fluff it up properly. Gently add milk and both the flours to it mixing them well.
Pour this mixture into the tiny cupcake moulds, leaving about a quarter of it empty at the top. Use the rest of the mixture in the large pan for the main cake.
Place the small cakes in the oven and bake them for about half an hour. Follow those with the large pan and bake it for about 45 minutes. Later, reduce the temperature to 160 degrees and continue baking for another 8-10 minutes.
Once all the cakes are baked fully, let them cool as it is. Separate them from the pans and place on the rack for cooling fully.
Now, add the egg whites, lemon juice and icing sugar in a bowl and whip it intensely to form an icing mixture. Place the large cake on a plate and cover it with the icing. Cover each small cake with icing and place it above the large cake, to form the castle towers.
Cover the entire castle with sprinkles and chocolate chips. Light candles on each tower and plant a tiny flag prop in the middle.
Decorations
Sprinkles, chocolate chips, and a tiny flag prop
Servings
About ten pieces
Preparation Time
About 45 minutes, fully prepared in another hour
7. Chocolate Snack Cake
No rule says that cakes are meant only for special occasions. Surprise your child when he gets back home from school with a nice cake awaiting his arrival.
Ingredients
Sugar powder
Chocolate chips
Vanilla essence
Vinegar
Olive oil
Water
Salt
Baking soda
Baking cocoa
Brown sugar
Self-raising flour
How to Prepare
As with any cake preparation, flag it off by preheating the oven to a temperature of 180 degrees or so.
This cake preparation does not require the pan to be greased in any manner. Hence, the batter can be prepared directly in the pan.
Start by adding salt, baking soda, cocoa, brown sugar and the flour in the pan. Mix these all with a fork to gently combine them. Follow up with, olive oil, vinegar, water, vanilla essence and stir these all properly to form a nice batter. Sprinkle about some chocolate chips all over the batter.
Place this pan as it is into the oven and set it to bake for about half an hour. Check intermittently using a skewer or a toothpick.
Once the cake seems baked fully, take it out and let it cool for a few minutes. Remove it from the pan gently with a knife and place it on a rack for cooling. After about half an hour, sprinkle this cake with some sugar powder for additional taste and decoration.
Decorations
Just some sugar powder and any additional chips, if needed
Servings
About six big pieces
Preparation Time
Around 15 minutes, with cake ready in an hour
8. Mango Coconut Ice Cream Cake with Lime Layers
This is one of the difficult cake preparations amongst the list. It requires preparation a day in advance, but the result is totally worth it.
Ingredients
Coconut flakes
Sliced mangoes
Lime juice
Brown sugar
Melted and cooled butter
Tiny biscuits
Mewa nuts
Frozen yoghurt or ice cream
Coconut cream
Desiccated coconut
How to Prepare
Take two large cake pans. Coat them properly with butter and set baking paper inside them, lining their sides and the base.
In a bowl, add coconut cream and desiccated coconut, mixing them fully. Follow it up with some ice cream or yoghurt and use a blender on low speed to beat it completely. Pour this mixture equally in both pans and cover them with a plastic paper immediately. Place them in the freezer overnight until they are set fully. This is the advanced prep.
On the day of preparing the main cake, begin by preheating the oven to a temperature of around 200 degrees. Arrange the mewa nuts in a tray and roast them in the oven for about 10 minutes. Keep a few nuts aside for garnishing and run the others in a blender until finely crushed. Add butter to these crumbs and rerun blender to mix them well.
Apply the above on top of the ice cream mix set in the freezer and gently press them evenly over their surface. Place them in the freezer again for another hour.
Now, take a small pan and add water and sugar to it. Heat it gently until the sugar dissolves. Simmer the flame and let it cook to form a caramel syrup. Pour in lime juice slowly and turn off the heat. Let the mix cool and then place it in the chill tray.
Now comes the assembly. Remove the pans from the freezer, extract the cakes and arrange them properly. Place one layer upside down and place the other layer over it. Use the mewa nuts as additional decoration over it, along with mango slices, coconut flakes. Spread a nice drizzle of the lime caramel syrup over it.
Decorations
Lime caramel, along with coconut flakes, mewa nuts and additional flavouring
Servings
About 12 pieces
Preparation Time
Nearly 6 hours, with cake ready in another half an hour
9. A Pretty Rainbow Cake
Seeing all cakes in the same colour can bore your child. Present him with a cake that has all the colours of the rainbow.
Ingredients
Milk
Vanilla essence
Sugar powder
Butter
Food colours
Eggs
Vegetable oil
Water
Vanilla cake mix
How to Prepare
Preheat the oven to 180 degrees. Coat around three cake pan with butter.
Take a large bowl and add together eggs, oil, water, and cake mix all together. Mix them with an electric blender.
Pour this batter in various small bowls. Add different food colours in each bowl and mix them properly. Place a few bowls in the fridge and pour the others in the cake pans.
Bake the mix for about half an hour by placing them in the oven. Check them if they are cooked by gently pressing with your finger. Let them cool down. Then, remove the cakes from the pan and place them on the rack for cooling down.
Wash the cake pans clean, and pour the batter from the other bowls. Bake these in the same manner and place the baked cakes on the rack to be cooled.
Take a large bowl and add butter along with sugar powder. Mix this well and follow up with vanilla essence. Pour in milk gradually while whisking the mixture constantly. Stop once it gets smooth and fluffy.
Shave off the cake tops slightly. Start with violet colour and lay down that cake layer. Coat a little frosting and place the blue layer on it. Continue the same process in the order of the rainbow colours. Coat the cake with additional frosting once fully layered.
Decorations
Coloured frostings and any additional edible props
Servings
About ten pieces
Preparation Time
Around half an hour, totalling to a couple of hours
10. Healthy Chocolate Cake
You don't have to eat cake guiltily if you want to. Make this healthy cake that you can gorge on with your child.
Ingredients
Butter
Eggs
Brown sugar
Cocoa powder
Almond mix
Baking powder
Ricotta cheese
Honey
Strawberries
Fruit liqueur
Icing sugar
How to Prepare
Preheat the oven to 190 degrees. Take three pans and coat them with a little butter.
In a bowl, beat egg whites properly. In another bowl, beat egg yolks with some sugar. Add the egg whites to this, along with cocoa powder, baking powder and almond mix.
Pour this mixture equally into the three pans and place them in the oven, baking them for about 15 minutes as it starts shrinking. Take it out of the oven, extract from the pan and let it cool.
Add the cheese and honey in a blender and smoothen it. Add some chopped strawberries to this mix along with the liqueur and rerun the blender. Spread this mix on one cake and place another cake layer over it. Repeat the same and place the final layer, creating a sandwich of sorts. Garnish with remaining strawberries and sprinkle some icing sugar.
Decorations
Chopped strawberries with a sprinkle of sugar icing
Servings
About six pieces
Preparation Time
About 30 minutes, totalling to an hour
Rummaging your head for some great kids birthday cake recipes might throw up the usual options. Go for some interesting ones from the above list and make the entire birthday party a memorable one for him and all his friends.