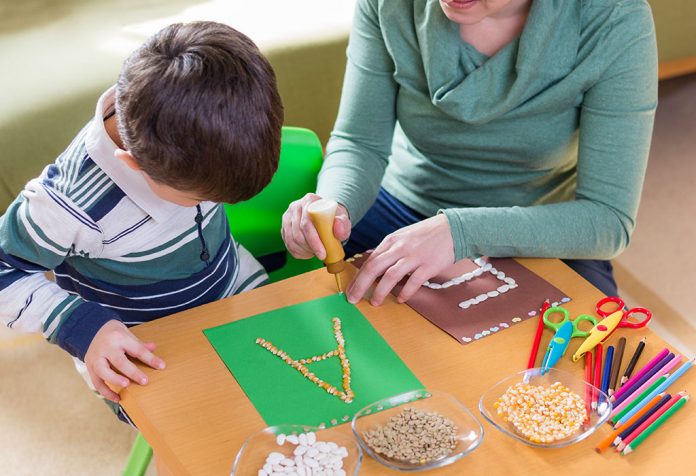 Children love to play and try out new games and activities. At times, your little one looks forward to finding something new to play with or do some fun stuff around the house.
A great way to keep your child occupied is by introducing crafts and games; these games will help your child learn about new things. In fact, by doing this, you are also preparing your little child for school. Obviously, you don't have to make it too difficult, nor do you need to have a fixed plan. This is the stage for them to just get exposure to the real world.
There are many amazing ideas that you can adapt to help your child learn something in a fun and exciting manner. If you would like to introduce your baby to ABC craft ideas for toddlers, here are some very effective and fun crafts that are surely meant for your little one.
Amazing Alphabet Craft Ideas for Kindergarten Kids
Engaging kids in craft activities will not only help them to unleash their creative side and keep them busy but will also give you some time for yourselves. Once your child gets interested in a craft activity, it will keep him busy for 2-3 hours and you won't have to run around him in the house. So, try these craft ideas for preschoolers and keep them occupied:
1. The Alphabet Wall
Children love art and colors. This is the time to get as funky and creative with your little one and turn your wall into a wall of Alphabet Art. If you don't want to spoil your walls, you can cover the wall with a huge canvas, craft paper, or cloth, or even paint the walls with washable paint which you can clean later easily. Now you can stick different alphabets in funny shapes and sizes and ask your child to use them to make more of them on the wall. You can add activities by asking them to cut out shapes of different letters and put it on the wall.

2. Letter Bags
This is a creative idea that many children will love. All you need to do is make a cute little bag for your toddler with all the letters in it. He will carry it around wherever he goes. At times, you can ask him to give a specific letter, or use a letter to make something. With time, he will get familiar will all the alphabets.
3. Make Objects for Letters
If you want your child to move around, this is a great idea. You can place all the alphabets in a board, and pictures of objects starting with that alphabet next to them. Now ask the child to bring the actual objects and place it next to the picture. Every time he is bringing the object, ask him what is the object and stress on the letter. For, eg. B – you can have a picture of a button and the child can use the picture to find the real object. If you are looking for preschool alphabet crafts, this is a good one as it allows your child to think and do more.
Over time, don't give them the pictures, but allow your child to randomly pick objects from the house, draw them next to the letter and keep it next to the appropriate letter.
4. Alphabet Garden
This is yet another beautiful idea for your little child. In fact, this is something your child can do with your help. Ask her to draw flowers and fruits and write the first alphabet of them on the respective flowers and fruits. This is fun to make, and your child will learn different letters.

5. Alphabet Book
Make your own alphabet book. You can put papers together and cut out shapes of letters and stick it on every page. The cut-outs can be from colour paper or pattern papers as this will look very colourful and pretty. You can leave some pages for your little child to draw the letters as well.
6. Alphabet Tree
Make a big tree with fruits and leaves. Every fruit can be a letter of the Alphabet. If you make a big tree, you can even stick it somewhere in the house. You can ask your child to draw the alphabet on to the fruits by giving her a few samples as well.
7. Alphabet Necklace
If your child loves wearing accessories, then there is something that will interest your little one quite a lot. You can cut out a necklace from chart paper, with 26 little circles. On each circle, you can write a letter. You can allow your little one to wear it as well. It will be fun to create it as well.
8. Alphabet Party
Do you want to throw a small party for your little one? You can invite some of his friends over and make it absolutely fun. The theme can be Alphabet, and you decorate the house with letters. You can make them in various colors and shapes which children will definitely love. You can even engage the children by giving them materials to make a small badge for themselves, and every badge should be a letter of their choice. You can have a lot of other alphabet crafts done during the party as well.

9. Picture Book
Make a fun picture book along with your child. You can start by cutting out letters for every page, and under every letter, you can add pictures of other objects starting with the letter. The child can even draw appropriate pictures. Make the book quite colorful and decorate it so that your little one will be excited to add more things to the book.
10. Alive letters
Children love to give life to everything they make. Here's something that involves a lot of cutting and colouring and is sure to interest your little one. You need to cut out shapes of letters and draw the different faces on them. You can even ask your little child to do the drawing part. To add more fun, some letters can have the expressions that start with that letter. E.g.: A – angry, H – Happy. Now, you can even encourage your child to build dialogues for these letter persons.
Sometimes children have a lot of fun doing these activities. Most of these crafts involve cutting which might be unsafe, and so it is best to do them with your child. In fact, you will have a good time doing things together. While making different things, make it a point to say the letter out loud. At times your children will learn it faster when they keep hearing you say the letters.
Teaching your child all the letters even before the schools starts will really help him, as he will be already prepared. Also, with a little awareness of letter, your child will be able to make words fast. You can start teaching your child letters from the time he is a baby. When they are too small, you might not expect immediate responses. However, by the time he grows up to around 2 and 3, these alphabet crafts for 3-year-olds will be so much fun.
Teach alphabets to your kid with these unique alphabet crafts. Your child will learn alphabets in a fun way and will be all set for school. You never know, he may even start forming words soon. If your little one shows an inclination to learn alphabets and words, he may be a word 'smart' kid. But what about his other 'smarts'? Work on those by subscribing to activity boxes for kids that are based on the theory of multiple intelligence and assist in the overall development of a child.