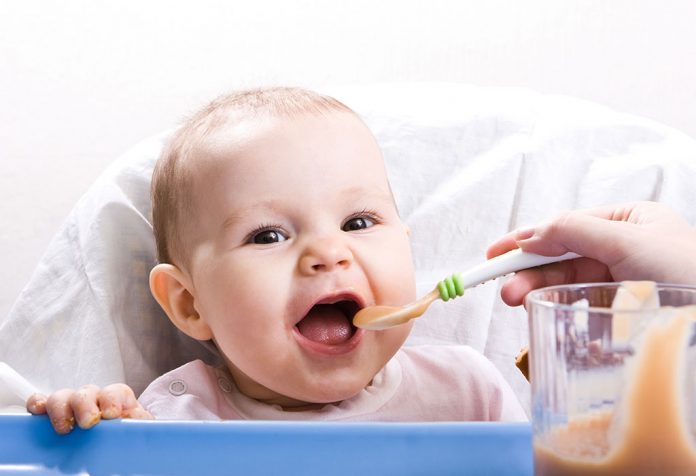 As soon as your little one reaches toddlerhood you may encounter a fresh set of challenges that includes feeding your baby. A child at this stage requires nutrients like proteins, vitamins, minerals, carbohydrates, fats and more. However, it is difficult to decide their course of meals on a daily basis whilst meeting the requirements of a balanced diet to keep them healthy and fit. Following a simple diet plan for 1 year old baby can help you sail through this phase smoothly.
Basic Guidelines for Feeding 12 Months Old Baby
By the time children turn one, their body can digest almost everything adults eat. You may have noticed that your child is eating less than before, and that's perfectly normal at this stage. According to American Academy of Pediatrics, children at this age should be getting about 40 calories a day for every inch of height.
Discuss any family history of food allergies with your doctor before you introduce any new food to your child.
Do not force feed because toddlers generally eat when hungry.
Don't give liquids like milk or juices before meal time. In case you are breastfeeding, refrain from offering milk frequently. Limit the milk intake to maximum 32 ounces so that baby has enough room for solids.
Babies may hesitate in trying new foods. Don't give up! Keep offering till the time child accepts it.
If the child is still not used to solid food, mash it lightly but don't give purees at this stage.
This 12 month baby food chart aims to help you plan your baby's meals:
1 Year Old Baby Food Chart
First week
Breakfast
Day-wise chart

Banana Pancake – Monday
French Toast – Tuesday
Oats cooked in milk – Wednesday
Sweet potato and carrot puree – Thursday
Mixed berries and yoghurt – Friday
Scrambled Eggs on Toast – Saturday
Hummus and Crackers – Sunday

Mid-Morning snack
A cup of juice, a bowl of fruits or a boiled egg
Lunch
Lunch should comprise of all important nutrient rich dishes.

Lentil Soup/rice and veggies with beef cubes – Monday
Simple chicken and vegetable biryani – Tuesday
Pasta Bolognese – Wednesday
Baked Salmon with Lemon and brown rice – Thursday
Light chicken with cream sauce with rice- Friday
Baked cod with rice – Saturday
Okra in tomato sauce and homemade chicken nuggets – Sunday

Evening Snacks
Vegetable soup/milkshake made from your child's favourite fruit/fruit smoothies
Dinner
Offer something light and easy to digest food for dinner.

Cheese and tomato omelette – Monday.
Pumpkin puree with rice – Tuesday
Pasta with Basil Pesto – Wednesday
Chicken soup and bread – Thursday
A small vegetable pizza made with a wheat flour base – Friday
Vegetable spring rolls – Saturday
Rice and mixed lentils (koshari) – Sunday
Second week
Breakfast

Hummus with pita bread – Monday
Cottage cheese sandwich – Tuesday
Vegetable poha – Wednesday
Apple and pear puree and yoghurt – Wednesday
and pumpkin puree with cereal – Thursday
Grilled cheese and tomato sandwich – Friday
Finger millet porridge – Saturday
Waffles with maple syrup – Sunday

Mid-morning
A cup of juice or a bowl of fruits or a boiled egg
Lunch

Baked beans with rice – Monday
Baked cauliflower and potato with cheese and lentil soup – Tuesday
Creamy chicken mushrooms with rice – Wednesday
Vegetable tacos with avocado dips – Thursday
Chicken curry with rice – Friday
Homemade cheese burger with baked potato wedges – Saturday
Rice with fish – Sunday

Evening Snacks
Baked beet sticks/fried apple rings/mixed veg fingers/yoghurt or laban with berries
Dinner

Meat cubes with mashed potatoes – Monday
Scrambled eggs and mini beef steaks – Tuesday
Vegetable soup with chicken and vegetable rice – Wednesday
Rice with steamed vegetable and baked hammour fish – Thursday
Homemade chicken nuggets with baked sweet potato wedges – Friday
Oatmeal porridge – Saturday
Cottage cheese and cucumber sandwich – Sunday
Third week
Breakfast
Day-wise chart

Banana pancakes – Monday
French toast – Tuesday
Oats cooked in milk – Wednesday
Sweet potato and carrot puree – Thursday
Mixed Berries with yoghurt – Friday
Grilled Cheddar Toast – Saturday
Finger Millet Porridge – Sunday

Mid-Morning
A cup of juice or a bowl of fruits or a boiled egg
Lunch

Koshar with lentil and rice – Monday
Simple vegetable biryani and beef cubes – Tuesday
Chicken shawarma wrap with vegetables and hummus – Wednesday
Baked salmon with brown – Thursday
Light chicken curry with rice – Friday
Baked cod with vegetable rice – Saturday
Okra in tomato sauce and grilled chicken – Sunday

Evening Snacks
Vegetable soup/milkshake of your child's favorite fruit/fruit smoothies
Dinner

Cheese and tomato omelette – Monday.
Pumpkin and sweet potato with yoghurt – Tuesday
Pasta and meat balls – Wednesday
Chicken soup and bread – Thursday
A small vegetable pizza made with a wheat flour base – Friday
Cottage cheese and cucumber mint sandwich – Saturday
Rice and mixed lentils – Sunday
Fourth week
Breakfast

Apple cinnamon waffles – Monday
Boiled Eggs and whole wheat toast – Tuesday
Mango and yoghurt parfait – Wednesday
Egg sandwich – Wednesday
Oats porridge – Thursday
Cheese and tomoato sandwich – Friday
Hummus with Pita bread – Saturday
Broccoli and cheese bake – Sunday

Mid-morning
A cup of juice or a bowl of fruits
Lunch

Chicken and vegetable quesadillas with avocado dip – Monday
Mixed Vegetable and chicken noodles – Tuesday
Mixed Vegetable and chicken noodles – Wednesday
Baked potato with gravy and veal steak – Thursday
Mini chicken and vegetable pizzas – Friday
Beef shawarma wrap with hummus dip – Saturday
Rice with fish – Sunday

Evening Snacks
Baked beet sticks/fried apple rings/mixed veg fingers/suji paneer cutlets

Dinner

Broccoli and cheese bake – Monday
Okra with tomato sauce – Tuesday
Vegetable soup with rice – Wednesday
Fried egg rice with vegetables – Thursday
Baked potatoes and chicken cubes – Friday
Vegetables Pasta with tomato sauce – Saturday
Beef Cheesy Lasagne – Sunday